Pantai Mutiara Wedding Festival - Maret 2019
Dbanquet Pantai Mutiara (pantai Mutiara Sports Club) Jl. Pantai Mutiara No.16, Pluit, Penjaringan, Jakarta Utara.
by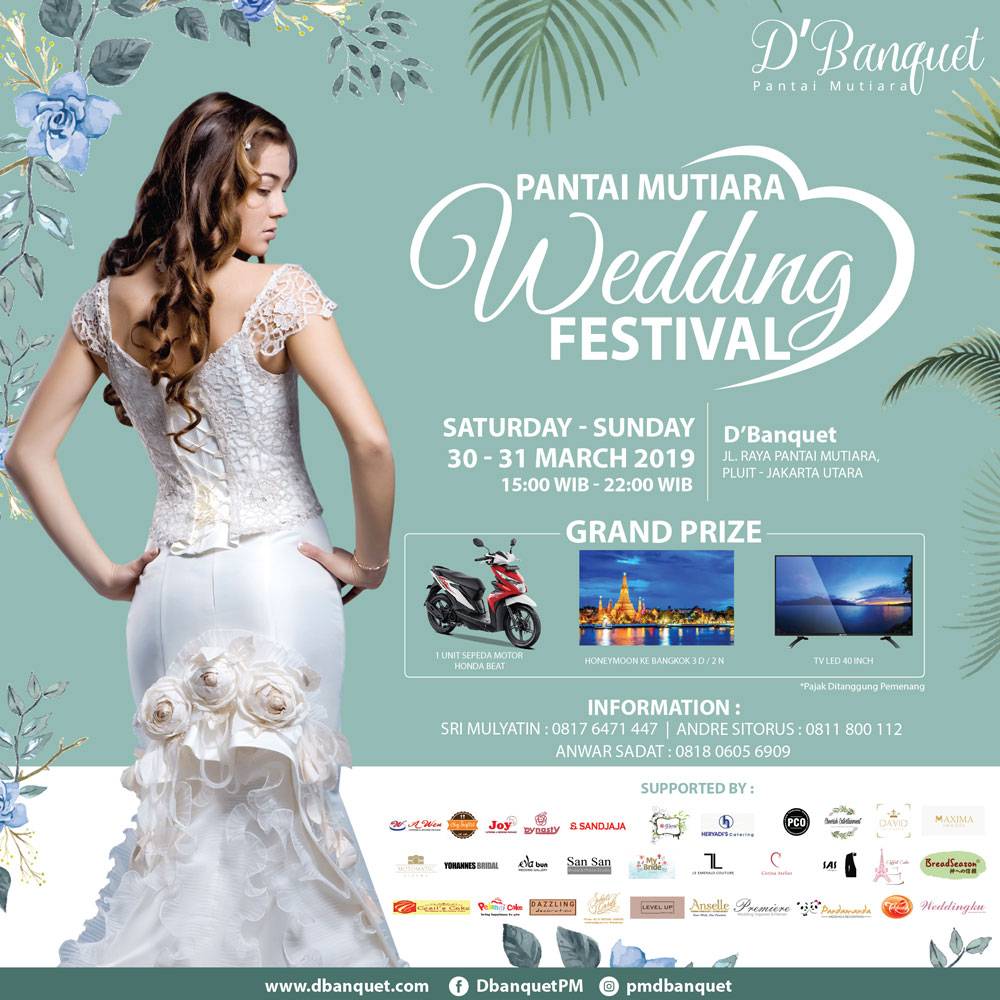 Halo grooms and brides to be!
Pantai Mutiara Wedding Festival merupakan salah satu pameran pernikahan yang telah membantu puluhan pasang calon pengantin untuk mempersiapkan pesta pernikahan mereka.
Pameran yang diselenggarakan oleh D'Banquet Pantai Mutiara ini akan digelar pada tanggal 30-31 Maret 2019 mulai pukul 15:00 s/d 22:00 WIB, bertempat di dermaga D'Banquet Pantai Mutiara, Jl Raya Pantai Mutiara, Pluit, Penjaringan, Jakarta Utara.
Menangkan Grand Prize 1 (satu) unit sepeda motor, paket honeymoon ke Bangkok 3 hari 2 malam, dan TV LED 40 Inch.
Ajak pasangan dan keluarga untuk menikmati nuansa pernikahan di satu-satunya outdoor wedding venue Jakarta berkonsep DERMAGA DI ATAS LAUT, dapatkan Grand Prize-nya, kami tim Wedding Consultant siap membantu anda.
Link website: http://www.dbanquet.com/grand-prize-di-pantai-mutiara-wedding-festival/
Hubungi kami di:
0817 6471 447 (Sri Mulyatin)
0811 800 112 (Andre Sitorus)
Website: http://www.dbanquet.com
Price List: http://www.dbanquet.com/paket
Facebook Fanspage: dbanquetPM
Instagram: pmdbanquet
View Vendor
More Detail