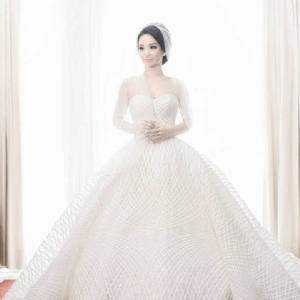 About
Inezia Chrizita is a young fashion designer whose love for fashion began when she first laid eyes on her motherís fabrics. From a young age of 9, she was draping her motherís fabrics and scarves, creating looks for her mini-catwalks. Content on becoming an artist of some sort, Inezia had her epiphany whilst watching a movie about a fashion designer. Inspired by the protagonistís success, she came to her realization that her dream is to become a successful fashion designer.

Filled with determination, inspiration and passion, Inezia embarked on her mission to make her mark amongst the Ďhaute coutureí of fashion.

Graduating from KVB Institute of Technology Australia with a high distinction result, Inezia went on to do a work experience with Collette Dinnigan, Australiaís most celebrated fashion designer. She then moved to Paris for a deeper fashion study, and graduated from Istituto Marangoni Paris, again, with an outstanding result.

In 2009, Inezia was one of the finalists of the International hand and lock embroidery competition in London, competing with all professional designers around the globe.

She had shown her collections in Sydney and London, where she presented her Spring/Summer and Autumn/Winter collections. In 2010, she returned to Indonesia and opened her own boutique in Jakarta.

Inezia recognized for her high-end feminine designs, superior quality evening and wedding gowns that highlights a womanís silhouette. Each gown is very unique and beautifully done with high sewing techniques and luxurious materials, mostly pure silks, french lace and swarovski crystals and usually finished with embroidery, hand made beadings and embellishments.

Ruko Gading Kirana A7D No. 8, Jl. Boulevard Artha Gading, Kelapa Gading
Jakarta
Phone: +622145857233
Email: contact@ineziachirizta.com