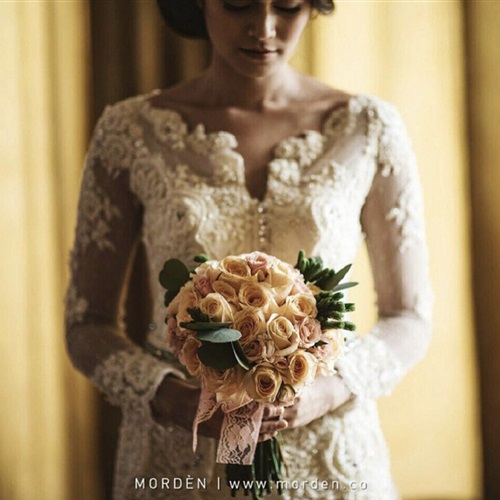 Aluira Make Up & Kebaya
Last active: about 15 days ago
4.2 (14 Reviews)
Review Anda Sangat Membantu Untuk Calon Pengantin Yang Sedang Mempersiapkan Pernikahan.
Jadilah yang pertama untuk me-review Aluira Make Up & Kebaya. Review anda akan sangat membantu calon pengantin yang sedang mempersiapkan pernikahan.
My Wedding 20.10.2013

5.0/5.0 | 10/30/2013 | Service: Make Up Artist

Aku baru aja nikah beberapa minggu lalu dan pakai Aluira untuk kebaya dan Make-upnya... Puaassss banget sama hasilnya, Buat Mbak Agnes, Mbak Lisa, and team. terima kasih banyak buat bantuannya. Kebayanya cantik, paes ageng Jogjanya memuaskan.. aku udah kaya ratu sehari.. hehehehehe.. Good Job!!! Pokoknya aku dan Irwan puasss banget.. High Recomended!!!!!
*Kiss and Hug

Senang luar biasa

5.0/5.0 | 11/4/2012 | Service: Make Up Artist

Saya menikah tanggal 17 maret 2012 di gorga 2 .
Aluira saangaaat memuaskann...
Ka agnes sangat baik dari awal email-emailan mengenai MUA. Baik bgtt
Ka lisa is the best, makeupnya bagus bgt, siap sedia sharing atau kasih tips untuk hari H. Rela didatangin malam-malam hanya untuk bicarain sanggul.
Thank you so much aluira.

beautiful kebaya is not always expensive

5.0/5.0 | 9/27/2012 | Service: Sanggar Busana

kita tau aluira dari sodara kita yang dah bikin baju di aluira sebelomnya.. pertama dateng ksana kita lgs suka sama baju2nya aluira,,design nya cantik bgt n mewah..dan yang paling nyenengin bgt sama mba agnes yang baee bgt n sabar bgt ngadepin kita yg sampe bisa ganti warna 3x n ngebantuin bikin model kebayaa yg cantixx buat ak n beskap yg bagus bgt buat rinoo..mana kita juga di pinjemin baju lagi buat prewed...hehehehehee *thanks bgt logh mba agness.... pokoknya pas hari H banyak bgt yang muji kebaya ak dan beskap rino....pokonya ak senenng bgt sama hasil kebaya n beskap kitaa...cantixxx.cantiixx n cantixxx.....n yang pasti aluira recommend bgt buat yg mau bikin kebayaaa,, cantiq,, mewah tp harganya reasonable...
makasihh aluira.... makasih mba agness...kiss..kiss..

Perfect gown for a perfect day

5.0/5.0 | 9/11/2012 | Service: Bridal House & Boutique

Well, where do I start!! I live in UK but got married in Bali Indonesia, I knew I would look for my dress in Indonesia coz when you buy a wedding dress in UK, the prices are ridiculously high. So, my friend from Jakarta kindly recommended me to Aluira, at first I wasn`t sure whether she directed me to the right vendor, because Aluira is specific designer for Kebaya.. and all I wanted was a big white gown.
So at this point, I haven`t even met or visit Aluira Butik, as I was still in UK. So we chat and discussed about the dress via BBM. Mbak Agnes is a very nice, talented, professional and motivated young lady, who listens and understands her clients. So then, I gave a shot and requested a gown design idea to her, and within a day she confidently said that it was possible for her to create that gown from the scratch. The price she gave me was also reasonable and affordable.
Believe it or not, I only had 1 day fitting, only 1!! To be honest, I was a bit worried.. a week before my wedding day, I tried the dress for the first time, and guess what!?! It was PERFECT, perfectly fit, the design was beautiful, I was blown away.
From that moment, I knew mbak Agnes is special, she`s a STAR! Thank you so much Aluira for making my dress like a princess, I got a lot of compliments.. my wedding was PERFECT.
I would highly recommend you, wish you all the success in the world. Keep in touch.

Aluira service TOP!

5.0/5.0 | 6/26/2012 | Service: Sanggar Busana

saya menemukan aluira kebaya setelah browsing dari Weddingku.com.. iseng saya berkunjung ke butiknya dan ternyata kebayanya bagus2 dan cantik... yang paling saya tidak sangka harganya sangat affordable
saya langsung memesan 2 kebaya utk akad dan resepsi serta 2 beskap utk sang calon suami,, hasilnya benar2 sesuai keinginan kami :) karena sangat puas, sampai sekarang saya rekomendasikan aluira ke teman2 :) bahkan ada teman saya yg dari newcastle- inggris jauh2 pesan kebaya ke Indonesia karena rekomendasi saya hihihihi :) thank you so much aluira sudah membuat acara spesialku makin spesial

just like i imagine

4.8/5.0 | 7/9/2012 | Service: Sanggar Busana

kebaya yg mba agnes buat bener2 precisely bgt sm yg aku gambarin.. bener2 miriip kaya mindahin imajinasi jadi kenyataan :) hehe... dan harga nya? ga akan ada deh yg percaya kalo harganya cuman sgitu.. pokoknya it is the best deal ever! :) it looks like Anne Avantie only waay cheaper.. :)

Fabulous kebaya by Aluira

4.5/5.0 | 2/4/2013 | Service: Sanggar Busana

The kebaya was exquisite!! specially made for me, fabulous... thank u so much mbak Agnes n mba Lisa...

Make Up

4.3/5.0 | 10/12/2017 | Service: Sanggar Busana

Hasil make up sesuai dengan ekspektasi yang diinginkan, hasilnya bagus dan cocok dengan baju yang dikenakan

BEST!

4.3/5.0 | 6/25/2014 | Service: Make Up Artist

Deal di aluira pas wedding expo, got great bonuses! good price which comes with great services!
kebayanya BAGUUSS2 banget, dan make-upnya FLAWLESS!!! Harus pake mba Lisa, her make up is simply one of the best make up ever!!
Marketingnya dengan mba dewi, super ramah super baik dan setia&sabar dengan saya yang cerewet dan labil ini hehehe.

Kebaya mama bikinan mba Agnes juga SANGAT BAGUS! servicesnya memuaskan sekaliii.. Nice Job Aluira!

one of my best Moment :)

4.3/5.0 | 5/15/2013 | Service: Make Up Artist

Aku nikah tgl 14 April 2013 dan vendor yg aku pilih untuk urusan makeup dan kebayaku adalah aluira, taunya dari temen yg kebetulan bikin kebaya di sini juga. Iseng2 ke Aluira sama calon suamiku ( dulu) skrg udh jadi suami,heheh.. dan pas liat kebaya2nya langsung jatuh cinta, selera aku banget dan cantik2 banget.. setelah dari sini sih coba2 nyari vendor lain, tapi ternyata ga bisa pindah ke lain hati *halah.. akhirnya memutuskan pakai Aluira apalagi setelah makeup test sm mba Liza, hasilnya Wow!.. Oke deh pas acara banyak banget yg muji Kebayaku di pelaminan sampe ada bule yg bilang " Wow you look so Great I like you dress and Makeup, hehe ( Namanya kebaya Miss, *jd bangga sama kebaya bangsa sendiri) mulai dari akad sampai resepsi, aku sih ga nyangka orang2 segitunya suka sama kebaya dan make up ku tapi ternyata.. sampe besoknya banyak yg bbm aku utk nanya aku pake rias mana hehe.. Senangnya Alhamdulilah ternyata aku ga salah pilih deh.. Thanks Aluira :)

reasonable price, looks like Anne Avantie kebaya!

4.3/5.0 | 5/31/2012 | Service: Sanggar Busana

bagi penggemar kebaya Anne Avantie tapi kurang gemar dengan harganya, Aluira sangat mendekati taste kebaya tersebut, tentunya dengan ciri khas Aluira sendiri, soal harga, untuk saya pribadi, muraaaah sekali untuk kualitas kebaya seperti itu, memuaskan sekaliiii

quite good

3.8/5.0 | 4/6/2012 | Service: Sanggar Busana

:)

Pangling

3.3/5.0 | 10/1/2015 | Service: Make Up Artist

Design kebaya yang elegant dan modern, bikin badan jadi merasa cantik juga :)

SANGAT MENGECEWAKAN

1.0/5.0 | 6/29/2020 | Service: Sanggar Busana

Marketing sangat tidak profesional. Kami udah booking salah satu mua dari aluira melalui marketing a.n. `V`, kami booking sekitar 6 bulan yang lalu dan telah disanggupi oleh `V`. Tapi 2 minggu sebelum akad, `V` bilang mua yang itu gak bisa di tanggal akad kami. Karena akad kami berbeda tanggal dengan resepsi, `V` bilang paketnya cuma bisa salah satu aja. Jadi kalo akad mau pake mua dari aluira kena charge lagi 5jt. Setelah itu kami chat langsung mua yang udah kami booking. Ternyata mua nya bilang tanggal itu bisa dan biayanya hanya 2,5jt. Masih banyak biaya tambahan di luar paket dari aluira yang jadi makanannya marketing. Kalo kamu belum menentukan vendor makeup dan attire, lebih baik kamu pertimbangin lagi deh kalo mau pilih vendor ini.