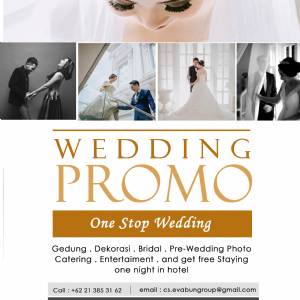 Eva Bun Bridal
Bridal House & Boutique
Jakarta
Bridal House & Boutique
Jakarta
About
We understand tat your wedding is a ONCE IN A LIFE TIME...
Experience that you've dreamed of forever.
Here at UpperRoom Jakarta, we help ypu realize that dream.
We go beyond providing a venue tthat will accommodate your guests.
Our team, together with our professional affiliations, will see to it that all your needs are taken care of, so you can relax and enjoy the best of your life.
Apapun yang Anda impikan dalam sebuah pernikahan adalah kenangan manis yang tidak dapat terlupakan. Dapatkan pelayanan terbaik dari kami sebagai one stop wedding solution yang telah berkiprah di industri pernikahan lebih dari 35 tahun serta memiliki berbagai divisi seperti Eva Bun Bridal, Eva Bun Photography, Eva Bun Academy, Eva Bun Wedding Planner, Steven Decoration dan Eva Bun Cattering, dengan fasilitas perlengkapan pernikahan dengan kualitas terbaik seperti gaun pengantin, gaun malam, tata rias wajah, penataan rambut, pesta & dekorasi pernikahan, foto studio dan fasilitas lainnya. Ratusan gedung, hotel dan destinasi wisata bulan madu juga merupakan relasi terbaik selama kami berdiri yang akan memberikan harga terbaik untuk Anda. Komitmen kami menyediakan solusi impian pernikahan terbaik Anda.
One Stop Wedding solutions :