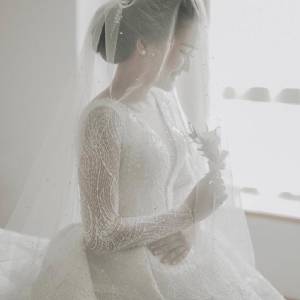 About
The Ivy Atelier custom design wedding gown for modern brides of all sizes. We offer customizable gowns and bespoke dresses to ensure that no bride has to compromise on the way they look on their wedding day.
We chose and made every fabric based on each customer's style and personal preferences. The majority of our collections are processed from inspirations which are combined into one unique and elegant piece.
Customer satisfactions and trust are the main keys of The Ivy Atelier to become a custom wedding gown venue that provides exceptional quality. We always adjust the design concept based on the wishes and body shape of each bride hence we can give an extraordinary results. From Ideas to skecthes to materials, production and alteration, The Ivy Atelier can tailor gown for you based on your preference style, size, budget and timeline.
Made from silk shantung, duchess satin, imported european laces, delicate embroideries, swarovski crystals and all fine quality materials, each of our gown is uniquely created, exclusively handcrafted and truly a piece of luxury.
By Appointment Only
Jakarta
Phone: +6287774275151
HP: +6287774275151
Email: theivyatelier.info@gmail.com