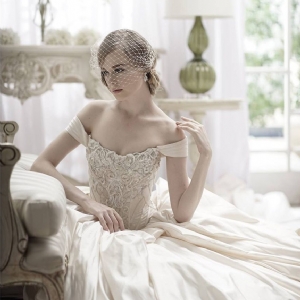 TINARA Bridal Boutique Salon
Bridal House & Boutique
Malang
"Falling in Love with Love"
Jatuh cinta kepada dunia fesyen dan kecantikanlah yang menjadi awal mula berdirinya Tinara Bridal Boutique dan Salon. Dunia yang sungguh-sungguh memikat hati mereka. Adalah sang ibu dan putri tercintanya yaitu Tinara Tjandra Dewi dan Amelia Kartikasari yang dengan gigih dan penuh cinta menjadikan Tinara Bridal Boutique dan Salon hingga menjadi besar sekarang ini. Pelayanan seperti rias wajah dan gaun pengantin dengan desain eksklusif disediakan untuk membantu para calon mempelai wanita mendapatkan yang terbaik. Selain unggul pada desain gaun, Tinara Bridal Boutique dan Salon juga selalu menyediakan desain yang uptodate, bahan berkualitas prima, ditambah akesori, veil dalam berbagai pilihan. Selain itu, Tinara Bridal Boutique dan Salon juga memiliki 3 line yaitu Tinara Bridal, Tinara Couture, dan Tinara White Label dengan konsep dan harga berbeda yang dapat disesuaikan dengan kebutuhan setiap mempelai. Untuk urusan kecantikan, para calon mempelai pun dapat menikmati pelayanan berupa facial, body spa, body slimming, manicure, pedicure, dan hairspa.
Untuk menjawab segala tantangan yang dapat menghambat perkembang dan kemajuannya, Tinara Bridal Boutique dan Salon terus melakukan inovasi dan pelayanan terbaiknya. Bagi Tinara Bridal Boutique dan Salon kepuasan pelanggan dan persahabatan yang kemudian terjalin adalah prestasi istimewa. Saat ini, harapan besar lain yang tengah dirintis adalah go international dan membuat lini ready to wear.
Pengalaman mengajarkan banyak hal. Dari pengalaman-pengalam itu pula Tinara Bridal Boutique dan Salon memberikan saran kepada calon untuk mempelai agar mempersiapkan pesta pernikahan mereka dari jauh hari sebelumnya. Dengan persiapan yang matang dan waktu yang cukup, konsep pesta pernikahan impian akan lebih mudah diwujudkan.
TINARA Bridal Boutique Salon

Jl. Wilis No.33-35 Malang
Phone: (0341) 553 626, 572 545
Email: tinara_bridal@yahoo.com

Jl. Bawean No.32-34,
Surabaya
Phone: (031) 502 2165-66
Email: tinara_bridal@yahoo.com

Ruko Mataram Plaza E-11 Lt.2 & 3,
Semarang
Phone: (024) 354 4001/2
Email: tinara_bridal@yahoo.com
Disclaimer
Weddingku tidak bertanggung jawab atas apapun kesalahan yang dilakukan oleh vendor termasuk penipuan. Untuk mengetahui kualitas dan integritas vendor yang bersangkutan dengan jelas, pastikan dengan membaca Review Vendor di website kami.