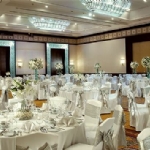 Shangri-La Hotel Surabaya
58
26.2k
About
As Surabaya wakes to a new day, you gear up for a new adventure from the charming and enchanting Shangri-La Hotel, Surabaya.

Lobby Lounge
As the only true luxury hotel in Surabaya, the warm Indonesian hospitality embraces you as soon as you enter the hotel. The lush greenery and excellent weather promise exciting rounds on the sprawling golf courses.

You waste no time and get down to it. The game is exhilarating Ė winning always is.

Itís now time for a relaxing massage to soothe those tired muscles. At the spa, the scents of traditional Indonesian oils suffuse your senses, lulling all aches away.

Back in your room at the exclusive Horizon Club floor, the anticipation of exploring the city below tugs at you. This is the confluence of history, where the Indonesian nationalist movement began. Today, it is an urbane cosmopolitan city. It has a Chinatown, swanky malls, and even the first Indonesian mosque built in Chinese-style architecture.

You canít cover everything in one day. But thereís no need to hurry, for time is on your side.

Night falls. With seven restaurants and bars, the choices at your disposal pose a challenge. Antipasti, hotpot and noodles, and Teppanyaki ice-cream tempt you at Jamoo restaurant. Your feet take you towards Shang Palace. Soon, fine Chinese cuisine delights your palate.

Under the canopy of a darkened sky, you slip between the luxurious sheets of your bed. This is bliss, right here, at Shangri-La Hotel, Surabaya.

Jl. Mayjend Sungkono 120
Surabaya
Phone: +623160038888