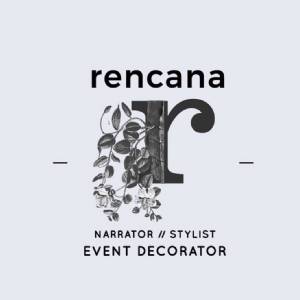 Rencana Narrator, Decorator & Stylist
0
7.4k
Rencana Decoration is a start-up business engaged in decoration
services.
We build an event or wedding based on a story. Our values are
listening, building, and serving. We elevate Storynomics as one of the
values that will characterize our services. Stories are how our brains
interpret the world around us, from taming relationships with other
people, to how we interpret communication. We wrap our business in
a narrative story.
Mari Berdialog dan Ceritakan Rencanamu~
Rencana Narrator, Decorator & Stylist

Perumahan Kodam Jl.Mustikajaya Blok A No. 10 Bekasi Timur Bekasi
Phone: +6282273711717
Email: dialogrencana@gmail.com

Jalan Renggong Manis No.67 Buah Batu,
Bandung
HP: +6282219006446