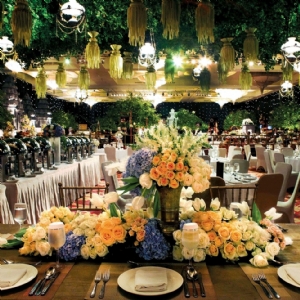 Rumah Kampung Elite Decor By Fajar
4.4 (6 Reviews)
Review Anda Sangat Membantu Untuk Calon Pengantin Yang Sedang Mempersiapkan Pernikahan.
Jadilah yang pertama untuk me-review Rumah Kampung Elite Decor By Fajar. Review anda akan sangat membantu calon pengantin yang sedang mempersiapkan pernikahan.
Good service & price

5.0/5.0 | 1/7/2019 | Service: Dekorasi

aku cuma dekor buat photo booth aja, tapi super puasss sm hasilnya. dikasih bonus pula akhirnya. negonya juga ga lama, briefingnya juga ga lama. happy!

Dekorasi Jawa Mewah Elegan

4.8/5.0 | 12/27/2013 | Service: Dekorasi

Beberapa minggu sebelum pernikahan, saya sempat menghadiri resepsi di venue yang akan saya gunakan dan saya cukup kaget melihat ruangan yang terasa sumpek dan sempit. Untungnya, setelah dikonfirmasi, ternyata vendor dekorasinya berbeda. Saya langsung panik dan gencar berdoa mudah-mudahan para tamu di pernikahan saya tidak akan merasakan hal yang sama.

Rumah Kampung adalah vendor dekorasi yang sudah sangat terkenal dengan kualitasnya. Saya melihat portfolio Rumah Kampung pada sebuah pameran vendor pernikahan, dan memang stand out jika dibandingkan dengan portfolio vendor dekorasi lainnya. Apalagi Mas Fajar sudah sangat berpengalaman dengan dekorasi pernikahan bernuansa Jawa, yang merupakan tema acara saya.

Pada hari H, ruang resepsi saya benar-benar disulap menjadi sangat indah dengan komposisi yang sangat baik dan tidak terasa sumpek seperti resepsi yang saya hadiri sebelumnya. Penggunaan items-nya pun berkualitas baik.

Banyak undangan saya yang terpesona dengan keindahan dekorasi Rumah Kampung. Mereka berfoto di hampir setiap sudut ruangan karena memang sangat indah dan anggun.

The Classical Of Royal Wedding

4.8/5.0 | 12/18/2012 | Service: Dekorasi

Wah.. Me and my hubby totally impressed sama vendor satu ini.. I LOVE my wedding reception decoration sooooo much! Mas Fajar and Mbak Tami sangat helpful dan sangat ramah. Kreativitas dan seleranya bagus. Jadi outcomenya bisa sesuai dengan imajinasi dan harapan kita. Bahkan lebih. Sangat mengerti tentang seluk beluk tradisi Surakarta. Mungkin karena kebetulan Mas Fajar berasal dari sana ya. Tema resepsi memang sengaja dibuat menyerupai Karaton Surakarta sehingga tamu yang datang dapat merasa berada di tengah-tengah Karaton. Tapi kalau melihat barang-barang koleksinya tampaknya memang sangat oke nggak cuma adat Jawa. Lokasi Rumah Kampung sendiri terbukti sering jadi tempat photoshoot majalah-majalah. hehehe Kerjasama sama vendor ini juga enak karena banyak pengalaman dan banyak kenal sama vendor-vendor lain jadi mereka bisa koordinasi langsung.
Overall puas deh sama vendor ini.
Matur nuwun sanget..



selera dekor yang elegant, tinggi dan khas!

4.5/5.0 | 5/31/2012 | Service: Dekorasi

Gak usah ragu kalo urusan dekor-mendekor serahkan saja ke ahlinya ya rumah kampung.. Mreka tau apa yg hrs mereka lakukakn, smua dilakukan dgn detail dan sempurna.. Dan pelayanan mereka membuat kita nyaman dengan keramahan mereka..

ethnic yg berbeda

4.0/5.0 | 6/5/2012 | Service: Dekorasi

saya selalu puas dgn rumah kampung< krn mereka selalu memberikan ide - ide yang kreatif dan berbeda. Rumah kampung pun tidajk hanya mendekor ethnic Jawa saja karena pada pesta saya mereka memadukan Jawa, Sunda, Bali, dan Betawi dan hasilnya sangat bagus dan elegant dan tidak dapat di lupakan

two thumbs up!

3.5/5.0 | 5/31/2012 | Service: Dekorasi

selain memang sudah menjadi kepercayaan keluarga (sebelumnya vendor ini sudah dipakai di pernikahan kakakku), rumah kampung memang vendor dekorasi yang sudah sangat profesional. Mereka bisa mewujudkan tema pernikahan ku yang cukup tidak biasa.