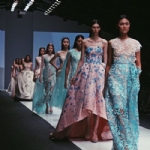 5.0 (3 Reviews)
Review Anda Sangat Membantu Untuk Calon Pengantin Yang Sedang Mempersiapkan Pernikahan.
Jadilah yang pertama untuk me-review Cynthia Tan. Review anda akan sangat membantu calon pengantin yang sedang mempersiapkan pernikahan.
Review Designer

5.0/5.0 | 10/13/2017 | Service: Designer's House

Superlove dengan designer ini, helpfull,friendly dan mau mendengarkan apa yang aku inginkan. banyak maunya,banyak referensinya, dan suka tiba2 berubah pikiran, sabar banget sama aku,banyak kasih bonus ke aku,harga special, bajunya jangan ditanya super duper glamour walaupun konsepnya simple. bahan pilihan nomor satu dan design yang bagus juga , worth it banget dan membuat aku jadi beda banget pas hari h.

Great and comfy Gown

5.0/5.0 | 9/18/2017 | Service: Designer's House

Pertama kali tau ci cynthia recommend dari saudara. Dari pertama ketemu cici udah suka banget sama gaun-gaunnya. Nyaman dipake, cantik, bagus, pokoknya oke banget lahh.... Pas mau prewed bingung sama gaunnya ci cynthia sendiri yang kasih bantuan buat masukkan gimana gaun yang oke dan bakalan bagus. Untuk gaun hari H aku suka bingung tapi cici bantuin banget buat cari model yang cantik dan mantap sampe di hari H gaun aku luarr biasaaaaa..... You`re truly a fairy godmother to all bride to be ciii.... keep inspiring others ya ciii Love`s Ricko & Nerissa

Wedding Dress

5.0/5.0 | 7/19/2017 | Service: Designer's House

My mermaid wedding dress was so beautiful and it fitted me perfectly, it also had a very long tail just like I wanted it to be. Cynthia was nice and friendly and she also listened to me deeply as she was able to make me my dream wedding dress.