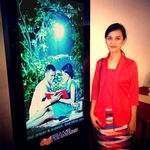 "Why you have to PRINT your DIGITAL media while you can show them in ITS ORIGINAL way?"
digiFRAME is present to help you show your media format in their original form.
Don't need to confused to pick the best photo to printed. SHOW THEM ALL with digiFRAME !

digiFRAME
features:
Slideshow your photo in full screen mode | 
Not only photo, but also video & any running text to share your messages | 
LOW power consumption. Only 82 watt | 

Elegant design with full black metal casing | 

Sturdy and safe with tempered glass cover | 
So, what do you still waiting for?
Check our latest PROMO at HERE
==========================
         - your digital event partner -
==========================

Komplek Bisnis Pasar Segar Cinere KBE-30
Jakarta
Phone: 0855 994 7474
HP: 0878 8669 3478
Email: cs@digiFRAME.biz.id