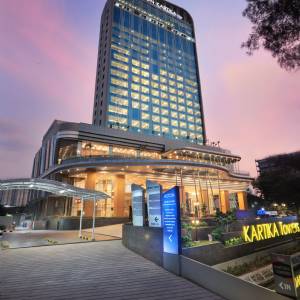 Aston Kartika Grogol Hotel & Conference Center
About
Aston Kartika Grogol Hotel & Conference Center is a brand-new Aston Hotel in West Jakarta, offering a comfortable and elegant one-stop business and leisure destination. Strategically situated in the center of Grogol - West Jakarta with easy access to the ring road tollways. The hotel itself is attached to a shopping arcade and office building.
A contemporary 4-star hotel surrounded by entertainment, business and education hubs, also complemented by an extensive range of in-house facilities including a rooftop restaurant, a fitness center, spa, swimming pool, Executive Lounge, and various meeting rooms. Additionally, a luxury grand ballroom is able to accommodate up to 2,000 guests, designed to accommodate business matters, special events, and weddings.
Its central and reputable location makes Aston Kartika Grogol Hotel & Conference Center an ideal hotel for both business and leisure, offering serenity from the bustle of the city, as well as smart and modern amenities for the international traveler. Free high-speed Wi-Fi available throughout the entire hotel for guests to enjoy.
Jl. Kyai Tapa No. 101 DKI Jakarta 11440
DKI Jakarta - Indonesia

Phone: 08188879334
Email: grogolprm@astonhotelsinternational.com