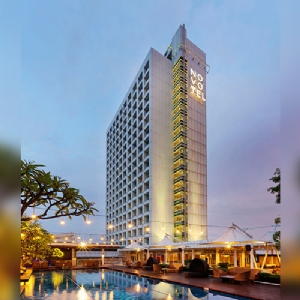 Novotel Tangerang
158
238.9k
NOVOTEL TANGERANG
THE BIGGEST BALLROOM IN TANGERANG..

Located at the main business district of Tangerang city, Novotel Tangerang is 20 minutes by car from the airport. The 266 room hotel is within Tangcity Superblock, at the top of Tangcity Mall. Novotel Tangerang has a restaurant, lounge bar, free WiFi internet, outdoor swimming pool, spa & fitness center, 7 meeting rooms and a 1,600sqm Grand Ballroom. Combining comfort and technology, the hotel is the perfect choice for business and leisure travellers.
The Grand Ballroom, experience the authentic love inside of the Grand Ballroom perfect function room to enhance your wedding event, with capacity up to 2,000 persons for standing party and 750 persons for round table set up.
THE SQUARE
From breakfast to lunch, dinner or a tasty little snack, Novotel provides balanced choices and a a la carte service 24 hours at all its hotels. At Novotel, you can count on enjoying a relaxing meal in a friendly, stylish setting.
You are served freshly prepared meals in front of you, large choice of Asian and international specialities, 'a la minute' cooking Stylish materials make you feel European and Asian influences.
LOUNGE BAR
The Lounge Bar is an intimate, friendly bar, which serves a wide range of cocktails, mocktails and other beverages. Light snacks are also available, making it the perfect place to catch up with friends or have informal business meetings.
SIXTH SENSE POOL BAR
Located at the podium level, adjacent to the spa & fitness center, the pool bar is a convenient spot to relax while enjoying the smoothies or light bar snacks.
SKY GARDEN
An outdoor venue with a size of 700 sqm located on podium level. This venue adjacent to restaurant's terrace (with canopy), open space and helipad. A perfect place to catch up with friends or have casual events.
Tangcity Superblock Jl. Jend Sudirman No. 1
Serpong-Tangerang
Phone: +622129679999
HP: 081211226670
Email: wedding@novoteltangerang.com