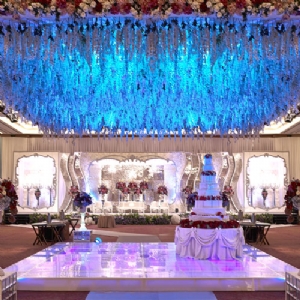 Pullman Jakarta Central Park
Last active: about 1 months ago
4.9 (3 Reviews)
Review Anda Sangat Membantu Untuk Calon Pengantin Yang Sedang Mempersiapkan Pernikahan.
Jadilah yang pertama untuk me-review Pullman Jakarta Central Park. Review anda akan sangat membantu calon pengantin yang sedang mempersiapkan pernikahan.
harga paket

5.0/5.0 | 4/2/2018 | Service: Beach Wedding Venue

saya ingin minta di kirimkan harga paketan untk wedding d pullman CP thanks a lot

Wedding

5.0/5.0 | 3/2/2017 | Service: Hotel Ballroom

Ballroomna baru,ceilingnya tinggi jd enak didekor...staff bagian wedding saat itu responsif n helpful..makanan enak; kekurangannya suite room kecil jd utk sesi foto agak sempit; overall puas dengan pelayanannya

Wedding Venue

4.8/5.0 | 11/9/2017 | Service: Hotel Ballroom

Bagus. Venue pun bagus. what I love the most is the celling. cellingnya mnrt sy paling tinggi di banding hotel2 lain. ini salah satu alasan sy memilih hotel pullman Central Park.