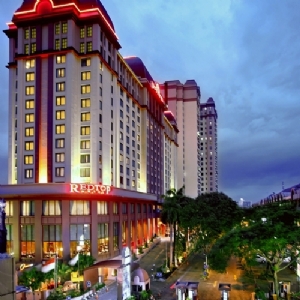 REDTOP Hotel & Convention Center
About
Welcome to REDTOP Hotel & Convention Center
Located in Pecenongan district on the edge of Central Jakarta, REDTOP Hotel & Convention Center is both a haven of culinary places and shopping centers in the centre of the city and yet near from business and government neighborhood.
Since opening in 1995 REDTOP Hotel & Convention Center has set new standards among the luxury hotels. Elegant contemporary architecture for design is matched by class-leading quality of service.
Design and service along with generously proportioned rooms and presidential suites combine with unrivalled business needs; such as convention room and meeting room, stunning Grand Ballroom, great view of swimming pool side, gymnasium, spa treatment, lounge, and delectable cuisine in Gallery Restaurant.
The REDTOP Hotel & Convention Center offers 4 star facilities in an excellent location in central Jakarta which would make your stay an exceptional experience. Come visit us!
Jl. Pecenongan No. 72
Jakarta
Phone: +62213500077
HP: +6282110057256
Email: siti.solikhah@redtophotel.com