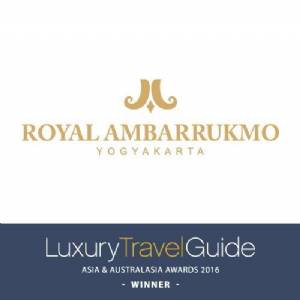 Royal Ambarrukmo Yogyakarta
A living museum hotel with International accolades, a place to embrace Royal history & legacy while enjoying today's luxury modern comfort
The 5-star award winning 'Luxury Travel Guide' & 'World Luxury Hotel Awards', Royal Ambarrukmo Yogyakarta has the 247 rooms & suites - from Deluxe, Premiere, Junior Suite, Executive Suite to Ambarrukmo Suite - remodeled and furnished in modern-elegance style, featuring premium bedding with pillow-top mattresses, Salvatore Ferragamo bathroom amenities for suites. All rooms with private balcony, commanding views of Merapi Volcano, Royal garden or the city, and state-of-art facilities.
In the last century, the hotel had achieved its iconic status not only for its pioneering luxury hotel and home to many first, but also for being a symbol of urban culture in Yogyakarta. Today, Royal Ambarrukmo Yogyakarta emerges as a luxury accommodation where modernity is keeping up regal traditions. Located just 7 km or 10 minutes away from the Adisucipto International Airport or to the downtown, the Ambarrukmo, an integral leisure & MICE destination comprising the award-winning 5-star hotel Royal Ambarrukmo Yogyakarta, brand new 4-star hotel Grand Ambarrukmo Yogyakarta, upscale shopping mall Plaza Ambarrukmo, heritage site Kedaton Ambarrukmo complex, newly built The Royal Kids Club & Playground, an authentic Nurkadhatyan The Ritual Spa and a large space for MICE at The Kasultanan Ballroom.
Yogyakarta is a trending place for wedding destinations and Royal Ambarrukmo is the most celebrated venue of all. Its cultural heritage collide with modern facilities attract various organizations to hold functions in this historic hotel. The Karaton Ballroom at the 8th floor in 608 sqm with 6 meters ceiling provides a stunning space for more than 800 people. Kedaton Ambarrukmo, a heritage site built in 1857 as a Royal residence, now it has been carefully restored, could host as a multipurpose venue, a home to few selects activities as well as a personal and corporate gatherings. The Kasultanan Ballroom is the brand new addition to the vicinity, with size of 1,500 sqm, 9 meters ceiling, built-in large stage, a pre-function room, a large foyer and high-tech devices – the luxury ballroom can accommodate up to 2,000 people.

Royal Ambarrukmo Yogyakarta is a home to admire Javanese Royal legacy, various ancient Royal customs and traditions. As a Royal Palace Residence in the 18th century, Kedaton Ambarrukmo is a miniature model of the Sultan's main palace. Today, in the attempt to maintain its spirit, the site is restores and kept alive with cultural performances, community activities and a dedicated museum. Weekly cultural, ceremony & lifestyle are include Bamboo Flute class every Monday noon, Javanese Dance Class every Tuesday, Batik Painting on 3rd week of Wednesday, Violin Chamber every Thursday, Jemparingan archery and Patehan Royal Hi-tea on Friday noon also Morning Yoga at Bale Kambang on Saturday.

Be it weddings or a honeymoon trip, Royal Ambarrukmo Yogyakarta awaits discerning guests with open-heart and mind to reveal its true regal charm.
Royal Ambarrukmo Yogyakarta
Jalan Laksda Adisucipto no. 81 Yogyakarta 55281
+62 274 488 488 | info@royalambarrukmo.com | www.royalambarrukmo.com
Jalan Laksda Adisucipto No.81
Yogyakarta
Phone: +62274488488
Email: info@royalambarrukmo.com