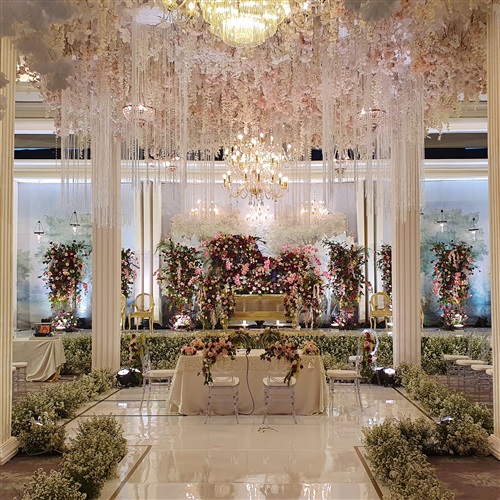 Royal Kuningan Hotel
175
288.5k
THE GRAND BALLROOM, ROYAL KUNINGAN HOTEL JAKARTA
Setiap pasangan pasti ingin mewujudkan pernikahan impiannya sesuai dengan yang diinginkan. Karena pernikahan merupakan hal yang sangat dinanti dan sangat bersejarah bagi setiap orang. Kami Royal Kuningan Hotel Jakarta akan membantu anda mewujudkan pernikahan impian Anda.
Terletak di Jalan Kuningan Persada, Jakarta Selatan, Royal Kuningan Hotel Jakarta memiliki lokasi yang strategis di jantung Kota Jakarta, membuat Anda mudah menjangkau lokasi Kami. Royal Kuningan Hotel Jakarta menawarkan sebuah Ballroom yang besar dengan sentuhan desain Klasik-Modern bernama The Grand Ballroom. Salah satu titik terbaik dari grand ballroom yaitu terletak di depan Lobby utama, membuat Anda merasakan menjadi tuan rumah dalam menjamu tamu Anda.
The Grand ballroom memiliki ruang yang luas dengan kapasitas 1254m2. Jumlah maksimum meja bundar maksimal 40 meja @ 10 kursi ( 400 pax ) dan kapasitas untuk berdiri sebanyak 1.600 pax. The Grand Ballroom menawarkan 3 ( tiga ) paket pernikahan yaitu International Package untuk kapasitas 800 pax , Traditional Package untuk kapasitas 800 pax dan Poolside Package untuk kapasitas 300 pax. Untuk pilihan menu, kami menawarkan pilihan menu Buffet Internasional dan juga Menu Buffet Lokal. Anda juga dapat berkreasi dengan pilihan menu food stall sesuai dengan keinginan anda.
Jl Kuningan Persada Kav 2, Setiabudi, Jakarta Selatan
Jakarta Whatsapp: 628129496209
Phone: +622129380738
HP: +6281510106588,
Email: sm@royalkuningan.com