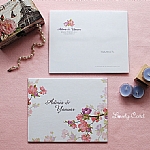 About
BECAUSE YOU ARE NOT ROMEO & JULIET. You have your own love story.

Established in 1984, we have helped uncountable couples sketching their dreams on their wedding invitation.

Why LOVELY CARD?
Art is our passion, art is what we love. Invitation is artwork.. and should be crafted by experienced artist.

We put our heart in every work that we do, Hand-Drawn Art, 3-D Embossed, Pop-Up, Laser Cut, Letter Press, Flocking, and also Neat Finishing..

Villa Kapuk Mas II Blok D7/8, Jakarta Utara
Jakarta
Phone: 08179397777
Email: tania@lovelycard.co.id