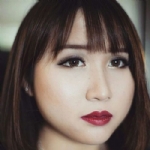 Suzuko Muto Makeup Artist
Make Up Artist
Serpong-Tangerang
Make Up Artist
Serpong-Tangerang
Suzuko Muto (b. 1994) is a Japanese-descent make up artist based in Jakarta - Tangerang.

A graduate of Puspita Martha International Beauty School for Photographic and Fashion Make Up CIBTAC, she has landed internships in Miss Indonesia, Indonesia Fashion Week, and RCTI's Dahsyat, all in 2012. Ever since she started as a freelance makeup artist, she has catered to over five thousand faces ranging from celebrities to sweet seventeens to graduations to preweddings and weddings.


In 2015, Suzuko was awarded 1st place in Masami Shouko's Smile With Your Eyes make up competition.