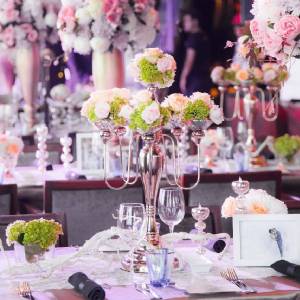 Altitude The Plaza
Wedding Venue & Restaurant
Wedding Venue & Restaurant
About
Altitude at The Plaza has been serving the best fine dining experience in the three high-end restaurant concepts establish at the 46th floor of the most prestigious location at the heart of central Jakarta. In the midst of constant growth, Altitude at The Plaza is consistently serving Jakarta's food lovers with the best diversity of International culinary and has been also established itself to be Jakarta's romantic dining destination.
OSO Ristorante - The newly rebranded Italian restaurant serves an authentic flavor from the place where Romeo and Juliet's story comes from. OSO holds a capacity of 110 people, strategically included a stunning skyscraper view standing tall from the west until the central part of Jakarta, which gives the perfect setting for any occasion and celebration.
Altitude Grill - A modern steakhouse with a capacity of 120 people, serving an array of different cuts of meats and signature in house dry aged steaks - providing sleek ambiance and contemporary decor with eye-catching attention to detail which excites all five sense of your culinary journey.
Enmaru - High-end Japanese restaurant adopting the real characteristics and atmosphere of Tokyo, serving creative Izakaya style dishes by only using the freshest and best ingredients.
With Jakarta's most iconic welcoming statue that stands tall beautifully framed above the hustle and bustle of city cars, it creates a naturally fabulous view that enhances any celebrations to great heights. Altitude at The Plaza has witnessed monumental moments from sweet seventeen birthday celebration to wedding proposals, engagement party and wedding celebrations. From intimate gatherings to grand affairs, Altitude at The Plaza takes pleasure in making your dreams come true.
This year, Altitude at The Plaza invites couples to say "I do" to a new wedding deal that features extra incentives to make the big day extra special.
The signature wedding package is priced at minimum spending of IDR 85.000.000++ where the bride and groom can choose one of Altitude's restaurant and customized their wedding celebrations according to their dream wedding scenario. The package covers the planning prior to the wedding day with food tasting and technical meeting, along with a one-night complimentary room at Keraton Hotel and a private holding room which can also be utilized for the holy matrimony service or tea ceremony.
Altitude at The Plaza's strategic location, romantic ambiance, and fine dining service will make your dreams come true.
The Plaza 46TH Floor. Jl. MH. Thamrin Kav 28-30. Jakarta 10350

Jakarta
Phone: +6221-29922448
HP: +6281321301643
Email: ira@altitude.co.id