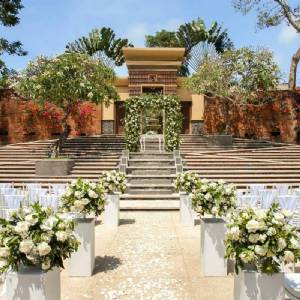 Amarterra Villas Bali Nusa Dua
About
MGallery is a collection of unique hotels by ACCOR. As how Kristin Scott Thomas, the MGallery Ambassador, had put it in words, "MGallery
is unique hotels where every stay is filled with emotion and discovery". Each hotel becomes the setting for a unique and original experience.

Inspired by the serenity of the property, MGallery welcomes Amarterra Villas Bali Nusa Dua as its distinctive member in 2013.

The name of Amarterra comes from "Amarta" which means water and "Terra" as earth. This exclusive resort embodies the spirit of the ancient Balinese Culture and Royalty from the historical Majapahit Kingdom.

Drawing inspiration from the environment and everyday life of traditional Balinese village, Amarterra Villas Bali Nusa Dua expresses the
spiritual balance and perfect harmony with nature.

Staying at Amarterra Villas Bali Nusa Dua is a moment to experience balance and harmony of life, the secrets of Balinese happiness for centuries.
BTDC Resort Lot Block B
Bali
Phone: +62361776400
Email: sales@amarterravilla.com