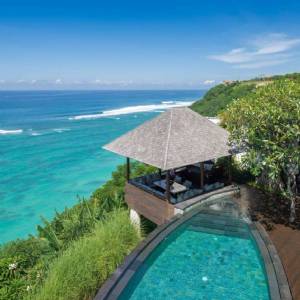 Bidadari Cliffside Estate
Wedding Venue & Restaurant
Wedding Venue & Restaurant
1
3.4k
One of Bali's premiere ocean front rental villas, BIDADARI CLIFFSIDE ESTATE dramatically hugs the cliffside overlooking the Indian Ocean on the Southern Uluwatu Peninsula known as the "Bukit".
The unique privately owned Bali luxury vacation home encompasses visually arresting contemporary styling and Balinese essence. Three Suites grace the main residence while the fourth - a Balinese-style Cabana - overlooks the aquamarine sea from its perch near the bottom of the cliff, mere steps above the white sand beach below!
On arrival at Bidadari Cliffside Estate, our attentive staff will greet you in the private central motor court. They will usher you through the doorway of a reflecting pool floating wall. You'll walk into the two-tiered gardens flanked by monumental twin Buddha statues symbolising peace and harmony.
Ahead sits the main residence - spacious in scale and fitted with unique and exquisite artwork as well as locally produced high quality furnishings. Suspended stairs ascend to the two private Master Suites and Media Room above. Elongated glass sliding doors open to the heart of the villa – the lofty-ceilinged living and dining rooms. This impressive space offers breathtaking clifftop views accross the expansive horizon of the Indian Ocean. Floor to ceiling glass doors celebrate this view on both levels of the residence.
Upstairs, the Master Suites are decorated with wonderful local modern furnishings and rare objets d'art. Each Suite is accompanied by outdoor Japanese soaking tubs to complete the feeling of pampered luxury.
The Bale, which serves as an outdoor dining and contemplative venue of the Estate, overhangs the cliff and sits next to the 18 metre elliptical infinity pool. The view from the ironwood pool deck appears as though at ocean's edge, making it the perfect venue for intimate weddings, high-end product launches and events.
A more intimate view of the sandy bay below can be experienced by taking the only private inclinator in Bali. Or walk down the cliffside path to the charming and romantic Cabana with its comfortably furnished private wooden deck. The Gym underneath offers the perfect space for a private Yoga retreat where one can meditate in this peaceful space overlooking the ever-changing ocean.
Bidadari means "Angels" or "Heavenly Spirits" in the Indonesian language. A day or two spent in this remarkable location will quickly reveal how aptly named is Bidadari Cliffside Estate...