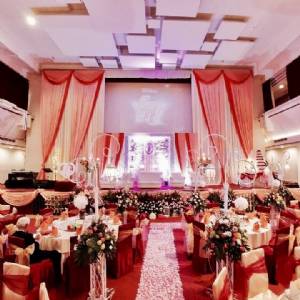 Eka Ria Restaurant
Venue & Restaurant
Jakarta Pusat
"Eka Ria" Restaurant adalah salah satu restaurant tertua di Jakarta, didirikan dengan nama "Jit Lok Jun" pada tahun 1925 oleh Tjoeng Tan dan berlokasi di pusat perdagangan Glodok (sekarang Glodok City). "Jit Lok Jun" selalu menciptakan kreasi-kreasi makanan yang kemudian tetap dipertahankan selama lebih dari 88 tahun, salah satunya adalah "Burung Dara ala Jit Lok Jun".Pada tahun 1958, kendali restaurant dipegang oleh Tjoeng Sang atau Suharto T.S. (putra Tjoeng Tan) dan sejak tahun 1981, Tjoeng Sang dibantu oleh Tjoeng Tjien Tjen atau Koko Suharto (putra Tjoeng Sang) yang kemudian menjadi penerus "Eka Ria" Restaurant hingga kini.Oleh tangan dingin 3 generasi "Jit Lok Jun", restaurant ini berkembang hingga berpindah ke beberapa lokasi untuk menampung tamu-tamu setia yang semakin bertambah. Antara lain:. 11 November 1970 - 29 Oktober 1984 berlokasi si Pasar Lindeteves Lt. II Hayam Wuruk (Pada periode ini, "Jit Lok Jun" mengubah nama menjadi "Eka Ria" Restaurant).. 1 Juli 1985 - 1987, restaurant berlokasi sementara di Jl. Batu Ceper sambil menunggu berdirinya gedung baru.. 10 Juli 1987, "Eka Ria" Restaurant menempati gedung baru yang berkapasitas ±1000 tamu undangan di Jl. K.H. Zainal Arifin no. 21A-23.. 23 Desember 2009, "Eka Ria" Delight & "ER's" Lounge yang merupakan bagian dari "Eka Ria" group berdiri dan berlokasi di BSD City dengan konsep minimalis modern.. 2013, "Eka Ria" Restaurant telah merenovasi gedung dengan tema modern minimalis dengan banyak penambahan fasilitas baru, seperti lift, catwalk runway, new stage, new VIP room, seminar room, workshop room. Dance floor "Eka Ria" Restaurant adalah salah satu yang terbesar dan terluas di Jakarta."It's been good 88 years, we've become a part of 5.000 years legacy of the great chinese food. Still many years to come, and nothing we can do without You" - Koko Suharto -Eka Ria Restaurant - Legendary Taste Since 1925.After more than 80 years, we learn and today we still learn to be a better place to dine and celebrate your special occasions and social events. Enjoy!
KH. Zainal Arifin 21A-23
Jakarta Pusat
Phone: +622163857777
HP: +6282311997777
Email: ekaria@ekaria-restaurant.com


Disclaimer
Weddingku tidak bertanggung jawab atas apapun kesalahan yang dilakukan oleh vendor termasuk penipuan. Untuk mengetahui kualitas dan integritas vendor yang bersangkutan dengan jelas, pastikan dengan membaca Review Vendor di website kami.