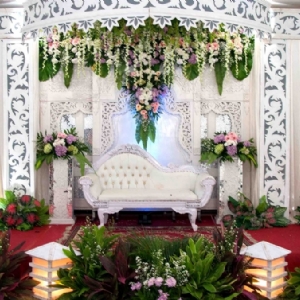 House of Eva Wedding Venue
Wedding Venue & Restaurant
Wedding Venue & Restaurant
1
9.2k
Di House of Eva Kami juga dapat menyesuaikan Pesta Indah anda sesuai kemauan anda, berdasarkan budget yang di miliki.
di "HOTEL HOUSE OF EVA" jl durian no 14 Jagakarsa jakarta selatan
Hubungi 0818716152 ~ 081574545007 ~ 081284386646
segera hubungi House of Eva untuk informasi lebih lanjut.
ITULAH KOMITMENT KAMI !!!

Dibawah ini kami rincikan berdasarkan harga PAKETAN NYA Tahun 2017
Paket Magenta dengan fasilitas terlengkap untuk 2017:
200 PAX : Rp 85.850.000
300 PAX : Rp 92.150.000
500 PAX : Rp 104.750.000
700 PAX : Rp 117.350.000
800 PAX : Rp 123.650.000
1.000 PAX : Rp 136.250.000
Paket Ekslusif untuk 2017:
Paket Untuk 200 ORANG = Rp 69,930,000
Paket Untuk 300 ORANG = Rp 76,430,000
Paket Untuk 400 ORANG = Rp 82,930,000
Paket Untuk 500 ORANG = Rp 89,430,000
Paket Untuk 600 ORANG = Rp 95,930,000
Paket Untuk 700 ORANG = Rp 102,430,000
Paket Untuk 800 ORANG = Rp 108,930,000
Paket Untuk 900 ORANG = Rp 115,430,000
Paket Untuk 1000 ORANG = Rp 121,930,000
Semua Fasilitas langsung didapatkan mempelai :
1. Gedung Serbaguna Hotel House of EVA + Outdoor Area
2. Buffet / Prasmanan sesuai jumlah pax undangan
3. gubukan gratis ( masing-masing 100 porsi ) / *MAGENTA
4. Dekorasi Keseluruhan Indoor dan Outdoor (Sesuai Tema : Adat, Internasional, dll) / *MAGENTA Woody, Rustic,
5. Make Up dan Busana Pengantin dan Keluarga (Total 22 Orang) / *MAGENTA termasuk busana akad
6. Dokumentasi Foto dan Video Resepsi dan Akad / *MAGENTA termasuk prewed
7. MC yang akan memandu selama acara berlangsung
8. Gratis Acara Akad Nikah
9. Music Pilihan (Organ tunggal) / *MAGENTA akuistik, live band, adat, etc
10. Meja Terima Tamu
11. 4 Buah Standing Foto
12. VIP Area
13. 1 Guest House untuk mempelai dan keluarga
14. Kamar Hotel House of EVA sesuai kebutuhan /*MAGENTA
15. Biaya Kebersihan
16. Biaya Keamanan
17. Perizinan Keramaian
18. Sterilisasi / Blocking Hotel
19. Tenda Pesta Mewah /*MAGENTA tenda transparant dan lainnya
Jalan Durian Raya No 14. Jagakarsa Jakarta Selatan
Jakarta
Phone: +62818716152
Email: hotelhouseofeva@yahoo.com