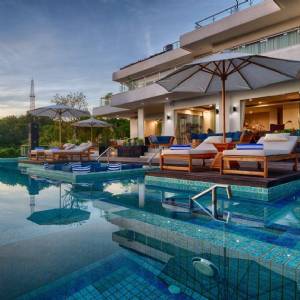 KaliBali Villa
Wedding Venue & Restaurant
Wedding Venue & Restaurant
1
2.6k
Villa Kalibali is a fully staffed, 4-bedroom holiday villa tucked into the contours of a scenic hillside in the village of Pecatu on Bali's Bukit Peninsula. Tropically modern in design and set in a spacious garden, Villa KaliBali is blessed with spectacular panoramic ocean views, spanning much of Bali's west coast.
Distinguished by an abundance of space, Villa Kalibali extends upwards on three levels to maximise the views, while offering a blend of air-conditioned comfort and alfresco living. The interiors are filled with comfortable furnishings and ocean-themed artwork. In addition to its four bedrooms, Villa KaliBali offers indoor and outdoor dining areas, an air-conditioned living room, a modern kitchen, and a dedicated TV room. Recreation facilities include a fabulous 16x7-metre swimming pool incorporating a Jacuzzi, a miniature-golf course, a steam room with shower, a Bali spa massage room, and a gym, while plenty of relaxation areas ensure that guests will always find a private spot for peace and quiet.
The villa is supported by a carefully-selected team of highly trained, friendly staff including your private chef who will do their best to ensure that their guests experience a truly enjoyable holiday in Bali. The team is headed by a Bali villa manager who will oversee and coordinate the staff and property, and is available to assist guests during their stay.
Guests who stay at this luxurious destination villa in Bali will have no need to leave the environs. Nevertheless, the Bukit Peninsula is surrounded by idyllic golden-sand beaches and the island's best surf breaks, complete with cafes, fine-dining Bali hotel restaurants, and stylish Bali beach-clubs. The 18-hole, championship, New Kuta Golf Course at Pecatu is just 6km away, additionally Bali National Golf Course and Pandawa Golf Course are close by.
By Appointment Only
Bali
Phone: 08176300771