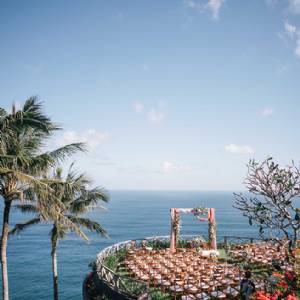 Khayangan Estate
Wedding Venue & Restaurant
Wedding Venue & Restaurant
According to ancient Hindu texts, at the beginning of time God created fourteen worlds in the universe – seven upper and seven lower. At the seventh heaven, high above the highest sky, lies Khayangan – the most magical place of all.
Born in the midst of divine beauty and peaceful allure, Khayangan is of another world. A place brimming with heavenly indulgences and abundant pleasures, where flowers bloom year-round and dramatic vistas envelop you.
In a quest to establish a retreat unmatched in luxury and landscape, the founders of Khayangan Estate spent years searching for the perfect location. After traversing across Indonesia's far-reaching archipelago, they discovered a remote plot of land perched, like a gilded nest, atop limestone cliffs on Bali's southwest peninsula, and knew they had found their little piece of heaven – an abundance of tropical greeneries framed by the infinity blue of the Indian Ocean.
Originally built as a private residence, the design of Khayangan Estate is singularly unique. Every space, from intricately carved bed canopies and elaborate lattice paneling to a 'floating' terrazzo bath with private gardens, has been carefully crafted with artisan touches from centuries of fine-tuned workmanship.
Every object, every indentation in the wood, bears testament to the glorious lives and rich traditions once enjoyed by the kings and queens of a lustrous past. Guests of Khayangan Estate are invited to discover a mythical lifestyle of opulence revived in an enchanted landscape of unparalleled beauty – truly heaven on earth.
Tertarik dengan promo & paket wedding dari Khayangan Estate?
Konsultasikan kebutuhan rencana wedding-mu bersama Weddingku!