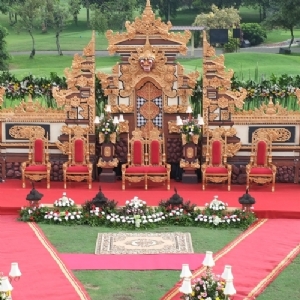 Modern Golf & Country Club
Venue & Restaurant
Serpong-Tangerang
Review of Modern Golf & Country Club
4.8/5(3 Reviews)
Beautiful Place
5.0/5.0 | 12/10/2013 | Service: Venue & Restaurant
Puas dengan pelayanan padang golf modern..Tempatnya juga luas dengan pemandangan langsung ke padang golf dan marketingnya Mbak Arie yang sangat membantu..Makanannya juga enak2..TOP deh PGM...thank you
Nice Place for Wedding
5.0/5.0 | 6/20/2013 | Service: Venue & Restaurant
Padang Golf Modern menjadi tempat yang kami pilih untuk melaksanakan akad nikah dan resepsi. Pelayanannya bagus dan direspon dengan cepat. Senangnya lagi, paket pernikahannya sudah termasuk catering, dekorasi, dokumentasi, dan entertainment. Jadi kami tidak perlu lagi mencari vendor-vendor sendiri, cukup memilih vendor yang disediakan Padang Golf Modern. Pokoknya Padang Golf Modern salah satu tempat resepsi paling oke di Tangerang!
Nice Place with Affordable Price
4.3/5.0 | 6/5/2012 | Service: Venue & Restaurant
Friendly staff and nice!
Km memilih tempat ini karena km memang mencari daerah yg dekat dengan tempat tinggal km.
Untuk urusan harga gak perlu ditanyakan lagi, karena harganya sangat masuk kantong kita. hehehe
Hanya sayang ruangannya ada yang terpisah sehingga permainan dekor harus pintar.
Makanannya juga enak dan disajikan hangat. :)
Bagi yg pengen mengadakan outdoor party aku akan menyarankan untuk ambil venue di sini untuk daerah Tangerang.
Satu hal lagi yg membuat km kurang nyaman, para staff sudah membereskan tempat padahal km masih di dalam. Rasanya kurang etis aja yah. :)
Disclaimer
Weddingku tidak bertanggung jawab atas apapun kesalahan yang dilakukan oleh vendor termasuk penipuan. Untuk mengetahui kualitas dan integritas vendor yang bersangkutan dengan jelas, pastikan dengan membaca Review Vendor di website kami.