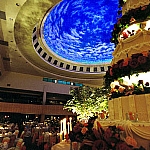 Dome of The Harvest
Wedding Venue & Restaurant
Wedding Venue & Restaurant
187
82.8k
THE DOME OF THE HARVEST
The Perfect Place for Weddings

Once you are inside THE DOME OF THE HARVEST,
you will agree that
there is no better choice for your special moment.
Your wedding will be perfect with the prestigious building,
well-designed interior, beautiful decorations,
magnificent sound system,
friendly and professional staff plus especially delicious meals
to complete your satisfaction.
An experienced wedding consultant is available
to help arrange your joyous event.


Marketing Support: 085719389909, 085959595158
Taman Himalaya Jl. Gunung Rinjani No 6 , LIppo Village Karawaci,
Serpong-Tangerang
Phone: +62215476170
HP: +6285959595158 / +6281223366292 (Marketing Hotline Service)
Email: dome@worldharvest.cc