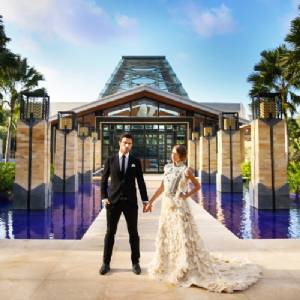 The Mulia, Mulia Resort & Villas - Nusa Dua, Bali
Wedding Venue & Restaurant
Bali
Wedding Venue & Restaurant
Bali
About
Located on the majestic coastline of Nusa Dua, The Mulia, Mulia Resort & Villas evoke a relaxed yet polished sensibility. Cutting edge design throughout, the resort comprises three signature experiences; The Mulia is a boutique all-suite resort with 111 suites. Mulia Resort has 526 accommodation including lagoon pool rooms and suites and Mulia Villas are nestled on the hills of Nusa Dua with private gardens and views of the Indian Ocean, offering total privacy and relaxation.
For those seeking pure elegance and luxury, The Mulia, Mulia Resort & Villas - Nusa Dua, Bali lends itself to the perfect setting of glamour and romance. A myriad of spectacular venues await to be the idyllic backdrop for both outdoor and indoor weddings – from three stunning wedding chapels and two elegant ballrooms, to the eight dining venues.
Your dedicated team will personalize every detail, whether it be creating elegant floral arrangements or preparing a custom wedding cake. Choose from a variety of special wedding packages or customize your own to make your dream wedding come true.
SAY "I DO" With The New Normal, Safety & Health Protocols
In the current climate of uncertainty surrounding travel, we would like to ensure you that the safety, security, comfort and well-being of our guests as well as our staff is of paramount importance as always.
In the past few months, Mulia Hotels Management team has been working restlessly from the shores of the Island of the gods, to put in place elevated Safety & Sanitation Protocols for the resort. Embracing the New Normal and safe travel, the resort is adhering to the World Health Organisation (WHO) guidelines to provide visitors with Peace of Mind.
Awards & Accolades
#2 The Best Resort in the World ~ Condé Nast Traveler's Readers' Choice Award (2020)
#1 in Asia - Indonesia – Resort (The Mulia & Mulia Villas) ~ Condé Nast Traveler's Readers' Choice Award (2020)
Top 20 in Asia – Indonesia – Resort (Mulia Resort) ~ Condé Nast Traveler's Readers' Choice Award (2020)
Forbes Travel Guide Five-Star Hotel Award ~ Forbes Travel Guide (2020)
Top 100 Hotels in the World ~ Travel+Leisure World's Best Awards (2020)
Top Resort Hotels in Asia ~ Travel+Leisure World's Best Awards (2020)
Top Resort Hotels in Indonesia ~ Travel+Leisure World's Best Awards (2020)
Top 10% of Hotels Worldwide ~ TripAdvisor Travelers' Choice Award (2020)
Best Meetings Hotel – Indonesia ~ M&C Asia Stella Awards (2020)
Best Culinary Experience on a Global Level? ~ Haute Grandeur Excellence Awards (2020)
Best Family Resort in Indonesia? ~ Haute Grandeur Excellence Awards (2020)
Best Resort Spa in Indonesia? ~ Haute Grandeur Excellence Awards (2020)
Best Signature Spa Treatment in Indonesia? ~ Haute Grandeur Excellence Awards (2020)
#1 Resort Hotels in Indonesia ~ Travel+Leisure World's Best Awards (2019)
#3 Resort Hotels in Asia ~ Travel+Leisure World's Best Awards (2019)
#7 Hotels in the World ~ Travel+Leisure World's Best Awards (2019)
Top 20 Resorts in Bali, Indonesia ~ Condé Nast Traveler Readers' Choice Awards (2019)
The Best Resorts in the World ~ Condé Nast Traveler USA – Readers' Choice Awards (2018)
Top 100 Hotels in The World ~ Travel+Leisure World's Best Awards (2018)
Top Resorts in Asia ~ Condé Nast Traveler USA - Readers' Choice Awards (2017)
21 of The World's Most Beautiful Beachfront Hotels ~ CNN (2016)
Favorite Beach Resorts in The World ~ Condé Nast Traveler USA – Gold List (2016)
The World's Best Hotels and Resorts ~ Condé Nast Traveler China – Gold List (2016)
The Best Spas in The World ~ Condé Nast Traveler USA – Readers' Choice Awards (2015)
Best International Beachfront Hotel ~ Condé Nast Traveler Russia - Readers' Choice Awards (2015)
The #1 Beach Resort in The World ~ Condé Nast Traveler USA - Readers' Choice Awards (2014)