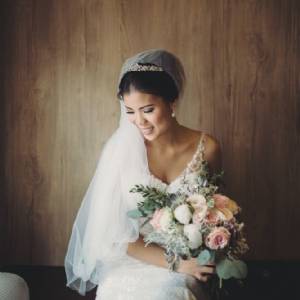 AB Photographs
Wedding Photographer
Jakarta
Review of AB Photographs
5.0/5(3 Reviews)
Friendly yet Profesional team!
5.0/5.0 | 2/4/2014 | Service: Foto Pre Wedding
Salah satu dari tim AB Photographs ini adalah temen kuliah gw dulu. Singkat cerita gw menggunakan jasa mereka untuk prewedding + due date gw. Satu hal yang gak bisa gw lupain adalah waktu mereka dateng pagi-pagi dan kenalan dengan semua pihak yang terlibat sebelum mulai buat dokumentasiin semuanya. Menurut gw profesional bgt sih untuk sebuah tim yang asyik yang bisa bikin kalian nyaman dengan hari wedding day kalian.

So far kelebihan mereka adalah:
1. Friendly
2. Kenal baik dengan industry wedding. Gw bs tanya2 sm mereka seputar hal itu.
3. Ngerti banget soal prosesi. Which is jd bisa terbantu karena mereka ternyata bisa ngebantu mengarahkan kalian.

Gw sangat merekomendasikan mereka untuk jadi partner kalian sih. Setelah jadi layout dan albumnya eksklusif. Dan yang paling gw suka adalah fotonya mereka banyak moment2 asyik yang bisa mereka capture.
Amazing trip and photo shoot in Australia
5.0/5.0 | 2/4/2014 | Service: Foto Pre Wedding
It is the first wedding for us and it is their first time to visit Australia.
I can feel their enthusiast for making my pre wedding photo shoot to be awesome. There were so many places I`ve never been to, however, we had an awesome trip to grab the beauty of Australia. Well my point is they did a well managed preparation and also maintain a good cooperation. I wish I can take my 2nd pre wedding photo shoot!
Disclaimer
Weddingku tidak bertanggung jawab atas apapun kesalahan yang dilakukan oleh vendor termasuk penipuan. Untuk mengetahui kualitas dan integritas vendor yang bersangkutan dengan jelas, pastikan dengan membaca Review Vendor di website kami.