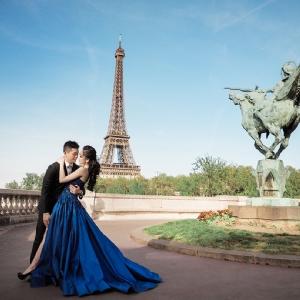 Antheia Photography
Photographer & Videographer
Photographer & Videographer
241
199.6k
About
Engrave your happiness moment with our great photos
About Us
Berawal dari hobby dan kecintaan sang pemilik terhadap bidang fotografi membuatnya sangat menikmati bidang ini. Sebagai bukti keseriusannya, pada awal tahun 2004 lahirlah Antheia Photography. Pemilihan nama Antheia berasal dari bahasa Yunani, yakni goddess of flower and love, atau dewi bunga dam cinta yang melambangkan keindahan abadi.
What We Do
Selama sebelas tahun Antheia Photography berfokus pada prewedding photography, wedding day photography & videography, baik di Indonesia maupun internasional.
Our Highlight Style
Foto natural menjadi salah satu ciri khas dari Antheia Photography. Hal tersebut tentunya didukung oleh komitmen tim fotografer untuk selalu berupaya memahami karakter calon klien sehingga klien merasa nyaman pada saat pemotretan.
About The Business
Keunikan wedding photography membuat kami semakin menikmati dan tertantang untuk menghasilkan karya yang lebih baik. Foto wedding bersifat sangat personal, pasangan satu berbeda dari pasangan yang lain. Untuk menghasilkan foto yang baik tidak semata ditentukan oleh teknik pengambilan dan equipment yang canggih, tetapi fotografer harus berupaya mengenal karakter kliennya dan memadukan keinginan-keinginan klien sehingga foto yang dihasilkan adalah versi terbaik dari mereka tanpa terlihat palsu atau dibuat-buat.
Tips For Client
Setelah menemukan vendor yang sesuai dengan selera, carilah informasi, seberapa lama vendor tersebut sudah berpengalaman di bidangnya dan bagaimana reputasi cara kerja dari vendor tersebut. Wedding photography bukan semata hanya hasil foto, tetapi bagaimana hasil foto tersebut dapat diolah dan ditampilkan sesuai dengan keinginan klien. Paduan skill fotografer, servis yang baik dan proses produksi yg berkualitas dari tim manajemen, tentunya akan menghasilkan hasil akhir (umumnya dalam bentuk album) yang sesuai dengan keinginan klien dan dapat selesai dalam jangka waktu yang sudah dijanjikan sejak awal.
Best Achievement
Pencapaian tertinggi bukanlah jejeran awards yang telah kami dapatkan, melainkan pada saat klien merasa puas dengan keseluruhan kinerja kami, baik dari sisi produk maupun dari servis yang diberikan.
Now, let us capture and share the moments of your happiness.
Instagram @antheiaphoto
Facebook Page Antheia Photography
Website www.antheiaphoto.com
Taman Permata Buana

Blok E2/21
Jakarta
Phone: +622156983430
HP: +681280164097
Email: info@antheiaphoto.com