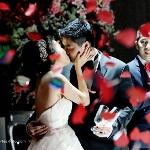 Cortez Photography
Wedding Photographer
Surabaya
"Be yourself and be happy. This is your day so....smile."  Bermula dari hadiah kamera SLR dari tante pada tahun 1996, memunculkan keingian untuk menambah ilmu dan mendalami dunia fotografi. Berkesempatan menimba ilmu dari "Rama Foto" (perusahaan foto di Surabaya), melanjutkan pendidikan di Petra 1998 Jurusan DKV, mengikuti seminar-seminar di Surabaya dan Jakarta Workshop. Setelah lulus kuliah memutuskan membuka usaha yang dinamai Cortez (2002).  Favorite spot  Semua tempat memiliki keunikan masing-masing. Saya menyukai spot-spot yang un-usual. Mungkin banyak fotografer sering memakainya, tetapi saya memakai angle atau teknik yang berbeda supaya mendapat hasil yang "berbeda" pula.  Favorite camera  Apa pun kameranya, hasil fotonya tergantung pada sang fotografer yang mampu menggunakannya secara efektif dan efisien, serta tepat pada lokasi dan mampu menangkap suasana saat itu. Nikon.  Biggest challenge  Memotret orang yang "kurang" menjadi "lebih". Artinya yang merasa kurang percaya diri baik dari sisi wajah atau fisik menjadi lebih nyaman karena keberadaan kita yang memotretnya.  Obsession  Banyak. Salah satunya memotret presiden.  Cortez Photography's style  Fun dan Elegan Kami berusaha menyesuaikan dengan karakteristik tiap-tiap klien yang berbeda-beda, tetapi unsur fun dan elegan akan menjadi salah satu konsep sesi pemotretan.  Best achievements  Memenangkan beberapa lomba di bangku kuliah dan Zainuddin award  Tips from Cortez Photography  Be yourself and be happy. This is your day so....smile.
By Appointment Only
Surabaya
Phone: (031) 502 0822, 601 02250

HP: 0817 0334 2654
Email: cortez_photo@yahoo.com


Disclaimer
Weddingku tidak bertanggung jawab atas apapun kesalahan yang dilakukan oleh vendor termasuk penipuan. Untuk mengetahui kualitas dan integritas vendor yang bersangkutan dengan jelas, pastikan dengan membaca Review Vendor di website kami.