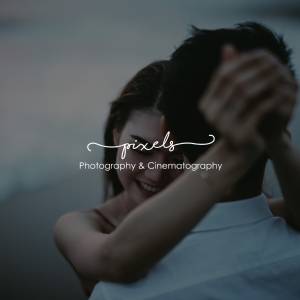 Pixels Photography & Videography
Wedding Photographer
Jakarta
Wedding Photographer
Jakarta
3.5 (8 Reviews)
Review Anda Sangat Membantu Untuk Calon Pengantin Yang Sedang Mempersiapkan Pernikahan.
Jadilah yang pertama untuk me-review Pixels Photography & Videography. Review anda akan sangat membantu calon pengantin yang sedang mempersiapkan pernikahan.
Pixels photo prewed outdoor dan hari H

5.0/5.0 | 3/19/2018 | Service: Wedding Photographer

Kita pakai vendor ini untuk Hari H dan foto prewed. Untuk hasilnya cukup memuaskan kok.

Good service

4.8/5.0 | 11/14/2017 | Service: Wedding Photographer

Thanks pixel.. hope can get good and wonderfull pic of our wedding..

Amazing

4.3/5.0 | 11/14/2017 | Service: Wedding Photographer

Suka sama hasil foto dan editing dari pixel.. fotografernya profesional dan handal dalam mengambil angle yang pas hingga membuat hasil foto menarik dan sesuai dengan yang diinginkan

Photography

4.0/5.0 | 8/1/2018 | Service: Wedding Photographer

We chose Pixels as a part of our package from Eva Bun. The pre wedding photo shot handled by Pixel themselves so the result was good. Their photographers were really nice. We had some memorable time together in Bali during our photo shot. The only minus point was our wedding day was given to their vendor instead of their own photographer. But overall as great.

Foto

4.0/5.0 | 11/14/2017 | Service: Wedding Photographer

Arahan foto baik... smua berjalan lancar

Pre-wedding

3.8/5.0 | 8/1/2018 | Service: Wedding Photographer

Saya memakai jasa pixels untuk prewedding dibali. Prewedding saya menjadi satu kenangan yang sangat diingat. Kita di arahkan foto di bagian atas yaitu danau Tamblingan. Hari pertama kami foto di pantai melasti dan malamnya naik ke danau tamblingan yang penuh dengan kabut. Staff2nya sangat ramah dan informatif sekali untuk kami yang terlihat kikuk di kamera. Kami dibantu dengan pose2 foto kami. Hasil foto prewedding juga sangat baik dan memuaskan hingga bingung untuk memilih foto. Untuk D-Day saya diberikan rekanan dari pixels/evabun, hasilnya lumayan baik walaupun tidak terlalu outstanding. Untuk pembuatan album d-day digolongkan lambat. Saya menikah di oktober dan album baru jadi di bulan juni setelah saya mengejar2 pengerjaan album kami. Foto2 prewedding kami juga tergolong sedikit mepet jadinya. Foto besar baru kami dapatkan 1 minggu sebelum D-day. But overall saya puas dengan service pixels dan berharap untuk pengerjaan album dan foto2nya bisa di percepat. Dan ditingkatkan customer servicenya karena saya sulit sekali menghubungi customer service pixels. Saya harus menghubungi Ibu Icha yang adalah marketing evabun/bridal untuk follow up.

Fotografi dan video pernikahan Damianus & Nelly 7/10/17

1.5/5.0 | 3/2/2018 | Service: Wedding Photographer

Pemotretan pernikahan kami dari foto prewedding kami puas akan hasil foto nya dan sangat memberikan komentar terindah kami seumur hidup kami, untuk fotografi di hari H kami juga kami merasa puas akan hasil foto nya untuk momentum keluarga dan sahabat kami, untuk video nya kami merasa tidak puas dan tidak sesuai perjanjian kami, saya gak tw itu dari pihak pixel or bukan, perjanjian harus nya HD hasil video saya, tapi hasil nya mini vd, jaman skrng koq hasil video nya begitu yah..saya merasa bayar mahal2 untuk seumur hidup itu video tapi hasil nya buat saya menyesal..harus nya HD tapi malah bukan HD ..saya ad bukti perjanjian nya tertulis.. minta pembayaran cepat, tapi untuk berikan pelayanan terbaik bisa salah..janji nya HD tapi mini VD..

TIDAK MEMUASKAN!

1.0/5.0 | 7/17/2018 | Service: Foto Pre Wedding

Menyesal banget pilih pixel, harganya mahal, edit foto gak bagus. pelayanannya GAK oke banget. Untuk edit foto hanya bisa 1x edit dan itupun gak sesuai yang diharapkan, padahal awalnya sudah oke bisa untuk edit foto yang kita inginkan tapi semuanya BOHONG! Saya lebih suka dengan fotography dengan vendor saya satu lagi D`....... hasil lebih bagus, dan profesional. untuk calon pengantin saya TIDAK menyarankan untuk ambil di pixel!