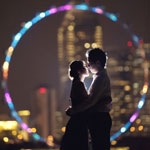 Welio Photography
Wedding Photographer
Jakarta
Wedding Photographer
Jakarta
4.9 (7 Reviews)
Review Anda Sangat Membantu Untuk Calon Pengantin Yang Sedang Mempersiapkan Pernikahan.
Jadilah yang pertama untuk me-review Welio Photography. Review anda akan sangat membantu calon pengantin yang sedang mempersiapkan pernikahan.
The best photographer for the best moment

5.0/5.0 | 7/15/2017 | Service: Wedding Photographer

Kita tau welio hasil browsing-browsing dan kebeneran deket tempatnya.. jd kita coba ketemuan dan kita akhirnya deal.. ko weli dan ci airin baik bgt. Pas gladiresik jg ko weli smpet dtg untuk briefing.. tim fotographer jg baik-baik.. Thank You Ko Welio Dan Ci Airin.. :)

welio

5.0/5.0 | 12/10/2013 | Service: Wedding Photographer

thankss to ko Welly and ce Airin untuk bantuannyaa..
Padahal waktu itu mepet baget mintanya, tp kepenuhin jg apa yg diinginkan..

hasil video untuk dipamer pas hr H jg okee bgtt!! banyak yg bilang baguss.. Makasih jg untuk teamnyaa..

Smwnya memuaskann..

Great Picture, fun session, fair price

5.0/5.0 | 2/19/2013 | Service: Wedding Photographer

Saya ambil paket prewedding Welio di pameran weddingku.
Hasil fotonya ok banget kami puas, dan slide show foto jg ok.
yang special dari Welio team menurut saya adalah passionnya, kami foto mulai pagi sampai malam, bahkan sampai kami yang menyerah kecapean padahal team Welio masih semangat untuk ambil foto. Welio masih ingin foto di satu lokasi lagi tapi saya tidak mau krn udah cape banget hahaha...
saran saya jika ambil foto bawalah kostum dan assesories sebanyak mungkin, bisa foto2 sampai puas pasti tetep diladenin :)

saya tidak ambil paket foto liputan hari h dengan Welio krn sudah terlanjur dp dengan foto yg lain ... dan saya menyesal :(


FOTO Pre Wed dan FOTO Hari H yang relax dan HEBOH ala Welio

5.0/5.0 | 5/24/2012 | Service: Wedding Photographer

Saat tulis ini, kami ( Muli Santoso dan Debora )jadi teringat moment-moment Lucu saat mau Foto Prewed dan Foto hari H kami bersama team Welio Photograhpy.

Pengalaman yang kami alami :
1. Kami ENJOY habis saat sesi Foto tidak ada sama sekali perasaan males n cape kenapa ?? ... karena Team Welio (termasuk ko Welli - asyik banget orangnya ) itu Gila dan Kacau-kacau but tetap FOTO nya TOP BANGET...
2. Semua Posisi Foto yang di minta kami ,di FOTO dan di berikan arahan yang ok sehingga hasil maksimal
3. Pembayaran tidak di tagih-tagih ( kita yang bingung, tapi tenang kami bayar selalu tepat waktu, malahan kami yang info pembayarannya)
4. Ko Welli nya langsung yang turun tangan sehingga Kualitas nya OK BANGET
5. Banyak di kasih tambah-tambahan yang tidak keluar uang lagi lho....

Welio Photography kudu kamu coba - beneran nih kudu di coba ,jangan bengong donk... serius...
karena kami sudah melaluinya....Mumpung ko welli belum MAHAL - MAHAL banget lho..heheheh

Thx Welio Photography


nice capture by Welio Team!

5.0/5.0 | 5/4/2012 | Service: Wedding Photographer

Gak bakal salah pilih vendor ini. Sukses buat Welio :)

Ownernya ramah & hasil fotonya OKEEE

4.8/5.0 | 10/7/2015 | Service: Wedding Photographer

Setelah keliling mencari vendor liputan, kami memutuskan memilih WELIO (vendor pertama yang menarik perhatian karena ownernya -Ko Weli- ramah).
Melihat hasil jepretan dari instagram hasilnya oke.
Pas hari H, kami diliput bak artis. Banyak sekali yang meliput kami (kalo ga salah 6 orang).
Sampai bestman dan bridesmaid kami merasa woooow dengan banyaknya personel liputan.
Same day edit yang dibuat oleh Welio pun menarik. Di pertengahan acara, banyak tamu yang terhibur dengan hasil Same day edit Welio.
Hasil liputannya pun sudah kami terima. Tidak sampai 1bulan setelah kami menikah, hasil foto sudah ada di rumah kami.
Well done Ko Weli...
Thanks banget udah banyak bantu kami selama persiapan wedding ini.
Thanks banget udah jadi bagian dari pernikahan kami.

Valuable Photography

4.8/5.0 | 8/20/2014 | Service: Wedding Photographer

Waktu awal kenal dengan Welio Photography pada saat mereka baru awal merintis bisnis ini. Setelah ngobrol dan melihat hasil2nya, langsung tertarik untuk menggunakan jasanya. Sekilas untuk hasil foto sendiri, kami suka cuma terdapat sedikit kekurangan yaitu terbatasnya gaya2 yang diberikan. Ko Welio sendiri orangnya sangat ramah, respondsive dalam membantu kami menentukan tempat2 yang dipakai untuk lokasi PW.