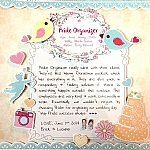 Pride Organizer
Wedding Planner & Organiser
Wedding Planner & Organiser
64
22.4k
PRIDE is an event andwedding organizer that founded on August 2011 in Bandung. It begins when one ofthe founder, Ajie have to organize his friend wedding. So, he ask Anne to helphim for organizing that wedding. Based on his experience organizing an eventfrom 2006 (FYI, Ajie have joined 2 organizer before making PRIDE, It isSUNSHINE Event Organizer as an co-founder and LITE Event Organizer as one ofthe founder), PRIDE will be a perfect partner for your event needs.
Being a PRIDE meansyou have to be PROFESSIONAL, DIFFERENT, and DEPENDABLE. It's described on each person team membercharacteristic. So, in other words, we have the quality to make your eventsuccess.
It'sa PROFESSIONAL organizer with a DIFFERENT concepts and of course DEPENDABLEservices.
Don't hesitate to count onus for make your event success and unforgettable.
Cikawao Permai Kav. B1/1
Bandung
Phone: 08112182810
Email: sales@prideorganizer.com