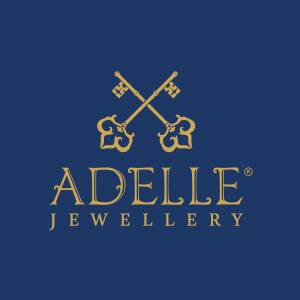 Adelle Jewellery
Wedding Ring & Jewelry
Jakarta
Wedding Ring & Jewelry
Jakarta
Last active: about 6 days ago
4.8 (12 Reviews)
Review Anda Sangat Membantu Untuk Calon Pengantin Yang Sedang Mempersiapkan Pernikahan.
Jadilah yang pertama untuk me-review Adelle Jewellery. Review anda akan sangat membantu calon pengantin yang sedang mempersiapkan pernikahan.
Extraordinary wedding ring ever!

5.0/5.0 | 11/15/2019 | Service: Wedding Ring & Jewelry

We`ve been searching for almost a year to get the best wedding rings for us, and our hearts fell to Adelle. They had lots of wedding rings. We had difficulties in choosing the one since they are all so pretty and in a very good quality! The staff was also very friendly and helpful. Thankyou Michael, Liana, and adelle`s LMP staff. We finally got our dream wedding rings! You guys are the best!

Wedding ring

5.0/5.0 | 3/2/2018 | Service: Wedding Ring & Jewelry

Aku bikin costume wedding ring di adelle, pelayanannya baik banget ramah orang2nya dia bener2 buat cincin sesuai dengan mau kita dan juga bisa di sesuaikan dengan budget yang kita punya, jadinyapun cepat gak pake lama hahahaha

Thanks Adelle

5.0/5.0 | 1/25/2018 | Service: Hotel Ballroom

Aku suka beli cincin disini karna modelnya bagus2 n suami aku juga suka n cocok sama model nya.Thank you adelle.

SUN BRIGHT

5.0/5.0 | 1/10/2018 | Service: Wedding Ring & Jewelry

Alhamdulillah pada saat deal dengan vendor venue, saya mendapatkan hadiah berupa wedding ring dari Adelle Jewellery. Langsunglah saya dan calon suami mendatangi outletnya, pada saat melihat hadiahnya kami memutuskan untuk upgrade. Upgrade berat emasnya dan besarnya diamond. Butuh waktu 3 minggu sampai pesanan saya ready. Setelah jadi, saya dan calon suami pun puas dengan hasilnya. Bagus dan berkilau. Pelayanannya pun ramah ramah.

Great choice for customize wedding ring and also Super friendly staffs

5.0/5.0 | 9/9/2017 | Service: Wedding Ring & Jewelry

At the first time we just stop by to adelle just for a quick glance. But then we right away fall with all of their designs and also interested that turns out they offer us to custom our wedding ring for free. So we agree to meet the designer and my super detailed husband is so pleased with the results. The price is also worth the results which i think is extremely good. Their staffs is also very friendly that will make you really comfortable

Beautiful rings for your beautiful Wedding

5.0/5.0 | 2/22/2017 | Service: Wedding Ring & Jewelry

Thank you, Adelle :)

Kurniawan dan Yenli

5.0/5.0 | 9/16/2015 | Service: Wedding Ring & Jewelry

Aku beli Kiss wedding ring disini, aku suka banget. perpaduan warna rose gold dan uniknya cincin itu bila di gabung bentuk nya love. unik banget kan. kualitas berlian yg juga oke banget. thx ya Adelle jewellery. suka banget sama wedding ring dari kalian. semoga semakin maju!!

Cincin

4.8/5.0 | 3/15/2017 | Service: Wedding Ring & Jewelry

Pemesanan cincin di adelle cukup bagus dan unik. Waktu itu saya memesan yg ada sidik jari setiap masing2 pasangan. Kemudian bonus dr mereka juga lumayan banyak sehingga saya dan pasangan saya punya cukup tambahan pajangan foto kita saat hari H.

Great Smile for Customer

4.8/5.0 | 1/4/2016 | Service: Wedding Ring & Jewelry

Seneng banget bisa pakai cincin nikah dari Adelle Jewellery.. mas-mas mbak-mbaknya ramah, udah gitu menang lomba fotonya... gak tipu-tipu... :)

Beautiful Rings for Our Beautiful Day - Ray & Felicia 6 Oct 2018

4.5/5.0 | 10/16/2018 | Service: Wedding Ring & Jewelry

Banyak sekali Marketing Jewellery yang tidak ramah terhadap calon customer, ketika melihat-lihat atau bertanya, hanya menjawab sekenanya, padahal lewat pertanyaan itulah, jika jawabannya sesuai dengan keinginan kita, pasti akan berujung deal di Jewellery tersebut. Keramahan inilah yang kami dapatkan di Adelle Jewellery, terlebih di Jewellery ini kami bisa menyesuaikan cincin dengan budget yang telah kami tentukan dan jika jarak pernikahan masih lama juga bisa customize sesuai keinginan. Walaupun sempat ada masalah terkait sistem permbayaran, namun saya sangat appreciate sekali dengan pelayanan di Adelle, terutama oleh Marketingnya, Ko Harianto. Beliau memberikan bonus Big Ring Box dengan ukiran nama dan tanggal pernikahan kami berdua, meskipun saat di awal kami hanya mendapatkan ring cincin biasa tanpa ukiran. Sekali lagi terima kasih untuk Adelle Jewellery Mall Kelapa Gading 3, sukses selalu :)

Kiss wedding ring

4.3/5.0 | 11/10/2017 | Service: Wedding Ring & Jewelry

Yay! In love banget ama cincin wedding kita ya, karena beda dengan yang laen modelnya unik! Makanya kita ga ragu lagi dan pasti untuk kesini buat cincin wedding, kenapa beda? Karena bentuknya unik banget, di vendor laen waktu itu ga ada yang begini.. kalau disatukan akan membentuk hati.. makanya namanya kiss wedding ring.. suka Banget!
Love

simple yet elegance!

4.0/5.0 | 6/20/2017 | Service: Wedding Ring & Jewelry

Pilihan jatuh ke adelle jewellery, agar setelah nikah suamiku bisa pakai wedding ringnya maka kitapun memutuskan untuk memilih cincin yang sederhana namun elegan. pilihan jatuh ke warna silver dengan 1 permata diatasnya. Saya suka dengan servis dan kualitas ring yang diberikan mereka. Ring kami terlihat shining dan cantik dijariku.