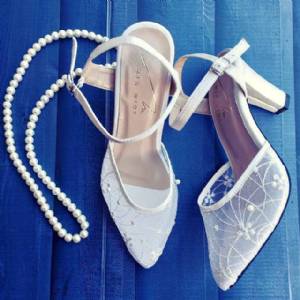 About
Mia Widy was founded on 2012 based on Magelang City of Indonesia with the aim of produce and selling women's shoes handmade with the highest quality, using manual tools and done by experienced and reliable shoe craftsmen.
Mia Widy shoes can make any women's designs of shoe such as flatshoes, high heels up to 12cm, wedges and boots. Materials that commonly used also very greatly like leather, suede, synthetic leather, brocade, lace and batik.
Here some tips to measure your feet ;)
1. Tape a pice of paper down to the floor. Place your foot firmly on top of the piece of paper. You better stand :)
2. Draw the outline (ask help from your friend) of your foot all the way around.
3. Mark the length and width of your foot on the paper.
4. Measure the length and the width of your foot with ruler (centimeters).
5. Use your length and width measurements to find your shoe size on a sizing chart.
Here are the size chart of Mia Widy
35 = 23cm
36 = 23,5cm
37 = 24cm
38 = 24,5cm
39 = 25cm
40 = 25,5cm
41 = 26cm
42 = 26,5
Please kindly text me on WhatsApp : 0878 8574 6493
I will lovely to help you to create your own design of shoes <3
XOXO,
Mia Widy
Jl. Sunan Kalijaga 2 no. 31 Karet - Magelang 56123
Yogyakarta
HP: +62878 8574 6493
Email: erlinadewinta@gmail.com