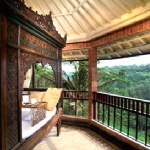 KUPU KUPU BARONG VILLAS & MANGO TREE SPA BY L'OCCITANE
Hotel Ballroom
Denpasar
Terpilih sebagai Koleksi Romantis oleh "Great Hotels of the World", Kupu Kupu Barong Villas & Tree Spa kini menawarkan sederetan spa villa-nya yang eksklusif, dengan bathtub mewah terbuat dari tembaga kemerahan, tirai lembut menghiasi sepanjang jendela menghadap taman dengan bebatuan paras putih yang diukir oleh seniman-seniman Bali. Lokasi Pemandangan alamnya yang memukau di lembah sungai Ayung telah menjadikan Kupu Kupu Barong menjadi legenda di Ubud sejak 15 tahun yang lalu. Setelah melalui renovasi total selama 3 tahun lebih, kini resort berbintang lima ini menambahkan konsep "Tree Spa"nya yang unik. Sebuah bilik treatment room terletak beberapa meter di atas permukaan tanah, di antara rerimbunan daun dan ranting pohon mangga. Anda dapat menikmati perawatan tubuh sambil mendengarkan sayup-sayup gemuruh sungai Ayung di kejauhan, keharuman bunga yang memenuhi pucuk-pucuk pohon dan bisikan angin di antara dedaunan. Suatu konsep yang sengaja diciptakan untuk menawarkan pengalaman yang tidak terlupakan untuk memanjakan tubuh, pikiran dan perasaan Anda. Kamar Saat menginjakkan kaki di pelataran resort, Anda akan disambut senyum hangat para staf yang siap mengantarkan Anda ke vila. Alunan musik lembut, keharuman kuntum mawar yang ditebarkan di atas tempat tidur, lilin aromatik di sisi tempat tidur dan suvenir bulan madu akan menjadi kejutan manis berikutnya menanti Anda di kamar. Setelah kembali dari sehari penuh menjelajahi Ubud dan sekitarnya, Anda akan menemukan kejutan manis selanjutnya di bathtub Anda yang sudah dipenuhi dengan taburan kuntum bunga mawar atau kamboja dan air hangat, sementara komplimen champagne sudah siap di sisi. Makan malam romantis dengan temaram cahaya lilin dapat disiapkan di tempat sesuai dengan permintaan Anda. Cara yang paling romantis untuk mengakhiri malam yang romantis, bukan! Honeymoon Activities / Hospitalities Dengan staf yang berpengalaman dan selalu siap untuk membantu Anda mengukir pengalaman berbulan madu yang tak terlupakan, membuat Anda pulang ke rumah dengan sejuta kenangan indah dan sebuah senyuman manis.
Kedewataan Ubud
Denpasar
Phone: +62 361 975 478
Email: reservation@kupubarong.com


Disclaimer
Weddingku tidak bertanggung jawab atas apapun kesalahan yang dilakukan oleh vendor termasuk penipuan. Untuk mengetahui kualitas dan integritas vendor yang bersangkutan dengan jelas, pastikan dengan membaca Review Vendor di website kami.