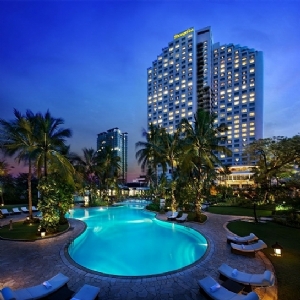 About
Celebrate life's events in style & elegance at Shangri-La Jakarta.
Our Grand Ballroom and intimate outdoor event spaces, along with bespoke menus and expert wedding planners will ensure every wedding is an enchanting celebration of love.
Function Rooms
Grand Ballroom
The pillar-free Grand Ballroom at Shangri-La Jakarta has a classic style and is perfect for large weddings with between 1,000 and 3,000 guests.
With an area of 1,785 square metres, luxurious crystal chandeliers hang from the Grand Ballroom's ceiling, which is as high as six metres, and the foyer area of 709 square metres creates a majestic and romantic impression.
The Grand Ballroom is conveniently located on the second floor of the hotel.
Indonesia Room
For a smaller wedding of 350 to 750 guests, the Indonesia Room is a perfect choice.
The Indonesia Room spans 595 square metres and has a spacious foyer for a gathering before the party. Invited guests are assured of privacy and comfort, as a private access allows guests to descend directly from the car into the foyer of the Indonesia Room.
Ceria Room
Couples who love the feel of nature will find the Ceria Room an apt choice.
Located in the garden and pool area, the Ceria Room offers a refreshing green landscape and is ideal for 200 to 500 guests. The Ceria Room also has special access from the Ceria entrance linked to the Wisma 46 building.
Poolside Garden
Shangri-La Jakarta's latest venue, the Poolside Garden an outdoor multifunction poolside area in the hotel's lush garden adds a fresh new look for events at Shangri-La Jakarta.
With a variety of flexible configuration tents that can be adjusted as needed, the Poolside Garden is an ideal venue to host events with a unique atmosphere, including social gatherings, open-air receptions, a birthday celebration with outdoor activities or games for children and themed parties.
The Poolside Garden also makes a romantic venue for wedding receptions. The Poolside Garden area spans 720 square metres (20 metres x 36 metres) and can accommodate up to 750 guests. Similar to other venues at Shangri-La Hotel, Jakarta, the Poolside Garden has a 400-square-metre foyer area that could be used by organisers to present a cocktail reception or a light meal for guests waiting to move into the main Poolside Garden area.
Kota BNI Jl. Jend. Sudirman Kav. 1
Jakarta
Phone: +622129229999
Email: yuke@shangri-la.com