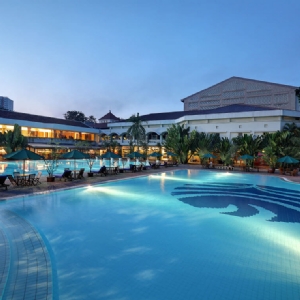 Klub Kelapa Gading
Wedding Venue & Restaurant
Wedding Venue & Restaurant
890
2.5m
Klub Kelapa Gading is one of the best venues in North Jakarta. Established since 1984, Klub Kelapa Gading provides a very valuable and interesting experience to celebrate your special moment.
Klub Kelapa Gading has ballroom facilities in the same class as a five-star hotel with the best service. Consists of 3 (three) Ballrooms and 1 (one) garden that can be used as a place to hold events according to your needs. The Grand Ballroom has a capacity of up to 1500 pax, Gading Agung has a capacity of up to 1000, Janur Sari has a capacity of up to 500 pax, and the garden has a capacity of up to 600 pax. Apart from that, there are also other function rooms which have a capacity of 30 - 100 pax.
The advantages of Klub Kelapa Gading are its strategic location, easy access, delicious food like a five-star hotel, a very large parking lot that can accommodate up to 700 cars, a beautiful atmosphere with lots of trees, a unique and beautiful swimming pool view, and working with quality vendors.
Jl. Bulevar Kelapa Gading Blok KGC, Summarecon Kelapa Gading
Jakarta Whatsapp: 62811997483
Phone: +62214520740
HP: +62214532771, +62214517619
Email: klubkelapagading@summarecon.com