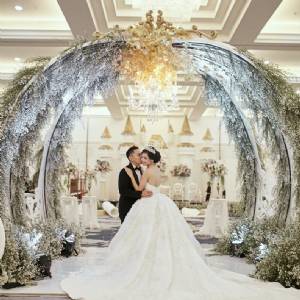 IKK Wedding (Menara Mandiri)
Wedding Venue & Restaurant
Wedding Venue & Restaurant
601
904.8k
About
Gedung Menara Mandiri (ex. Plaza Bapindo) merupakan salah satu fasilitas hall pernikahan yang strategis dan prestisius di Jakarta. Terletak di pusat area bisnis, kemudahan akses, kapasitas ruang besar, dan lahan parkir yang luas menjadikan Menara Mandiri sebuah pilihan yang tepat untuk menyelenggarakan pesta pernikahan Anda.
Gedung Menara Mandiri dikelola oleh IKK Wedding yang merupakan perusahaan penyedia jasa perencanaan pernikahan professional yang didirikan di jepang pada tahun 2002. Berawal dari bisnis hotel yang telah dirintis sejak tahun 1945, dengan pengalaman manajemen yang terakumulasi selama lebih dari 70 tahun, kini IKK hadir di Jakarta untuk mewujudkan impian pernikahan para calon pengantin Indonesia.
"We are grateful for being alive and we want to return it to the world in the form of happiness".
By Appointment Only
Jakarta
Phone: +62215266211
HP: +62215266212,+62215266213, +62811100501
Email: ikkcs@id.ikk-grp.com