Pengantin Ian dan Ciska | Venue: The Kim Palace
Setiap pernikahan mempunyai tradisinya masing-masing demikian pula dengan acara sangjit yang sudah menjadi tradisi ratusan tahun dari Tiongkok. Banyak pengantin yang merencanakan untuk mengadakan acara sangjit sebelum mereka menikah, tapi ada juga yang merasa acara tersebut butuh waktu dan bujet lebih. Sebetulnya tidak masalah apakah Anda akan melaksanakannya atau tidak. Tidak ada aturan tertentu yang menyatakan bahwa acara ini harus diadakan.
Sangjit biasanya diadakan setelah acara lamaran dilaksanakan untuk memberikan seserahan dari calon suami yang ditujukan kepada calon isterinya. Demikian sang calon isteri pun akan membalasnya dengan memberikan seserahan kepada calon suaminya.
Masing-masing seserahan mempunyai arti tersendiri disertai dengan doa untuk kebahagiaan serta kemakmuran kedua calon pengantin yang akan segera menikah. Lalu apa-apa saja yang harus dipersiapkan di acara Sangjit yang dibawa oleh calon pengantin pria? Simak artikel berikut ini.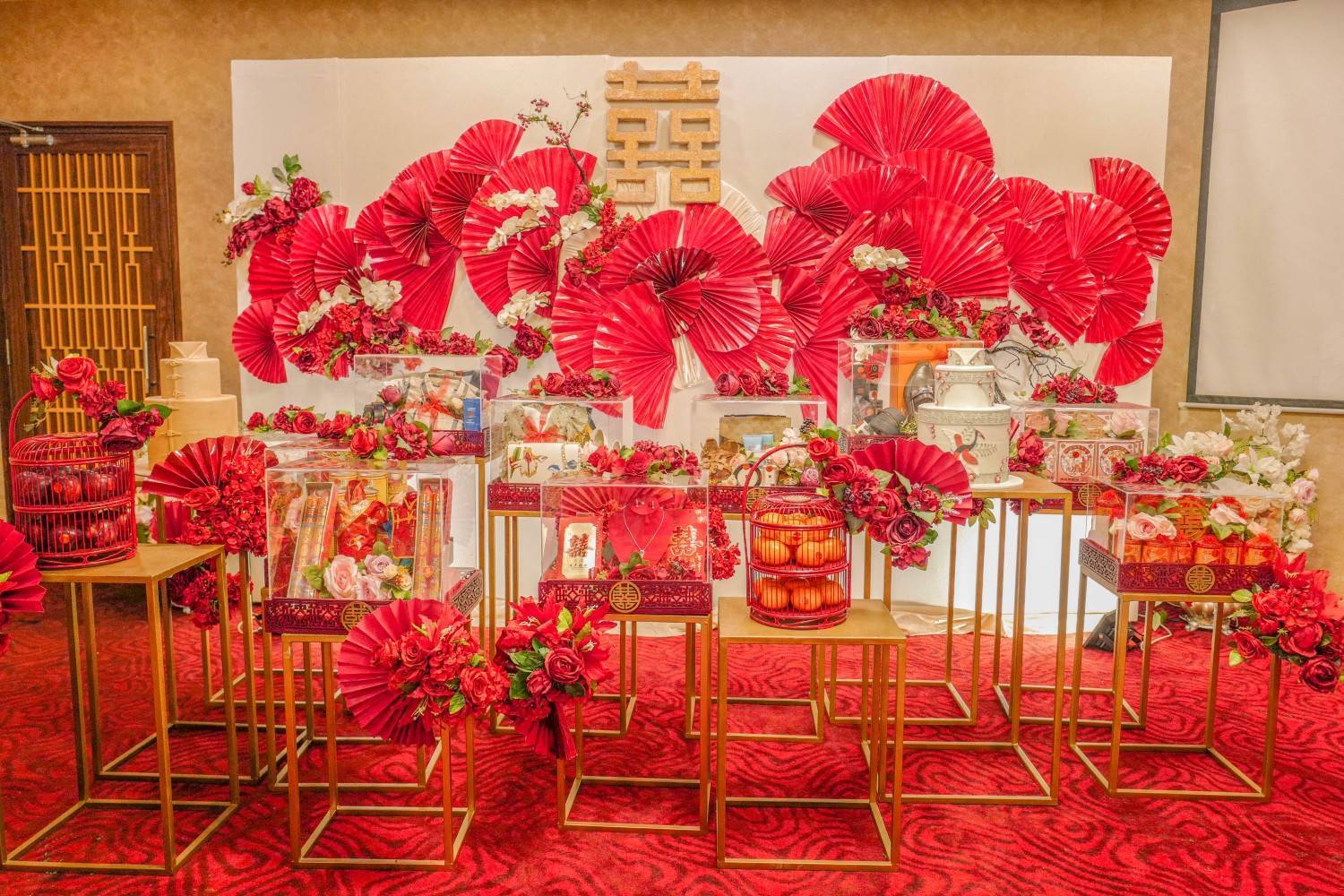 Seperangkat lengkap busana wanita baik pakaian dan pakaian dalam yang dihantarkan oleh sang calon suami. Hal ini memberi arti bahwa kelak sang calon suami akan memenuhi semua kebutuhan calon isterinya setelah menikah.
Kosmetik dan peralatan mandi juga menjadi bagian dari hantaran dari calon suami ke calon isterinya. Artinya kelak sang isteri diharapkan untuk tampil cantik.
Seperangkat perhiasan lengkap sebagai tanda pengikat. Biasanya terdiri dari kalung, cincin, anting, dan gelang dari emas.
Uang susu dan uang pesta dalam amplop merah. Uang susu artinya penghargaan bagi keluarga calon isteri yang telah membesarkan dan mengasuhnya dengan baik menjadi seperti sekarang ini.
Uang pesta akan digunakan untuk melangsungkan pesta pernikahan kedua calon mempelai. Keluarga calon pengantin wanita akan mengambil sebagian saja yang artinya biaya pernikahan akan ditanggung bersama oleh kedua belah pihak.
Buah-buahan dalam jumlah genap seperti apel, jeruk, anggur, pir, serta buah-buahan manis lainnya. Sebuah pengharapan untuk kehidupan berkeluarga yang manis bagi kedua mempelai.
Makanan kalengan dalam jumlah genap.
Dua pasang lilin merah yang diikan pita merah untuk menangkal hal-hal negatif.
Makanan manis dan juga manisan dalam jumlah genap. Jumlah genap di sini artinya semuanya dipilih dalam kelipatan angka delapan. Angka yang dianggap mendatangkan keberuntungan.
Dua botol anggur merah yang wajib harus ada di acara sangjit dan dibawa oleh calon pengantin pria.
Semua foto dari The Kim Palace.