Momen memotong kue pengantin di malam pernikahan Lovely Couples menjadi hal yang ditunggu-tunggu oleh para tamu undangan. Ketika momen ini berlangsung, semua mata pastinya tertuju kepada Lovely Couple dan wedding cake. Untuk itu, pemilihan wedding cake bukanlah hal yang sepele melainkan harus disesuaikan dengan karakteristik dan konsep wedding loh. Yuk, kita lihat inspirasi wedding cake untuk berbagai konsep wedding dari Le Novelle berikut ini.
1. Pagoda Cake for Your Oriental Wedding Concept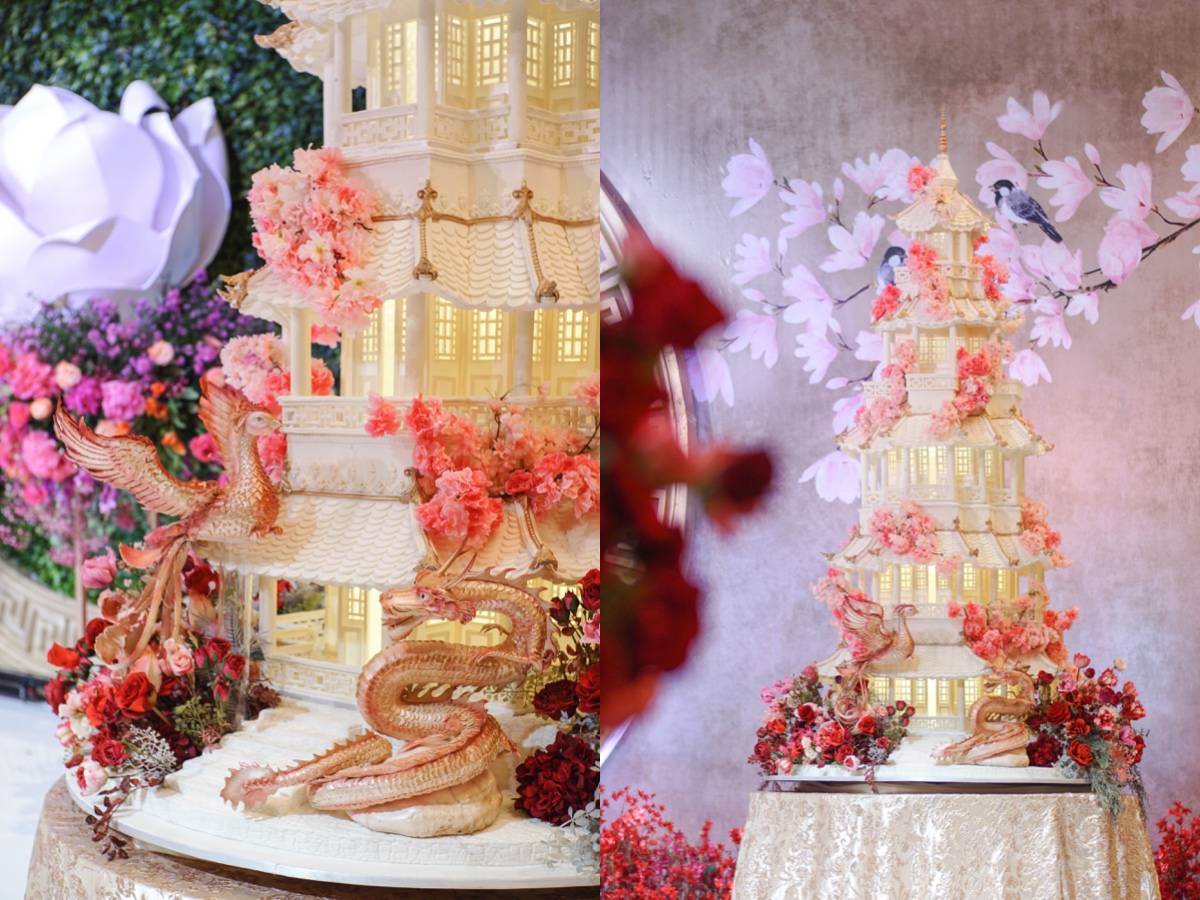 Bangunan pagoda ala Tiongkok khas dengan ukurannya yang tinggi berdiri dengan gagah di oriental wedding cake satu ini. Kue ini semakin bermakna dengan adanya elemen Dragon dan Phoenix yang merepresentasikan arti everlasting love dari pernikahan ini. Naga memiliki arti kemakmuran & keberuntungan untuk suami, sedangkan Phoenix mewakili sisi feminim seorang istri. Kesan romansa juga terpancarkan oleh bunga-bunga merah muda senada yang menghiasi dari bawah hingga ujung Pagoda wedding cake ini.
2. A Perfect Match! Batik & Chinoiserie for Traditional Wedding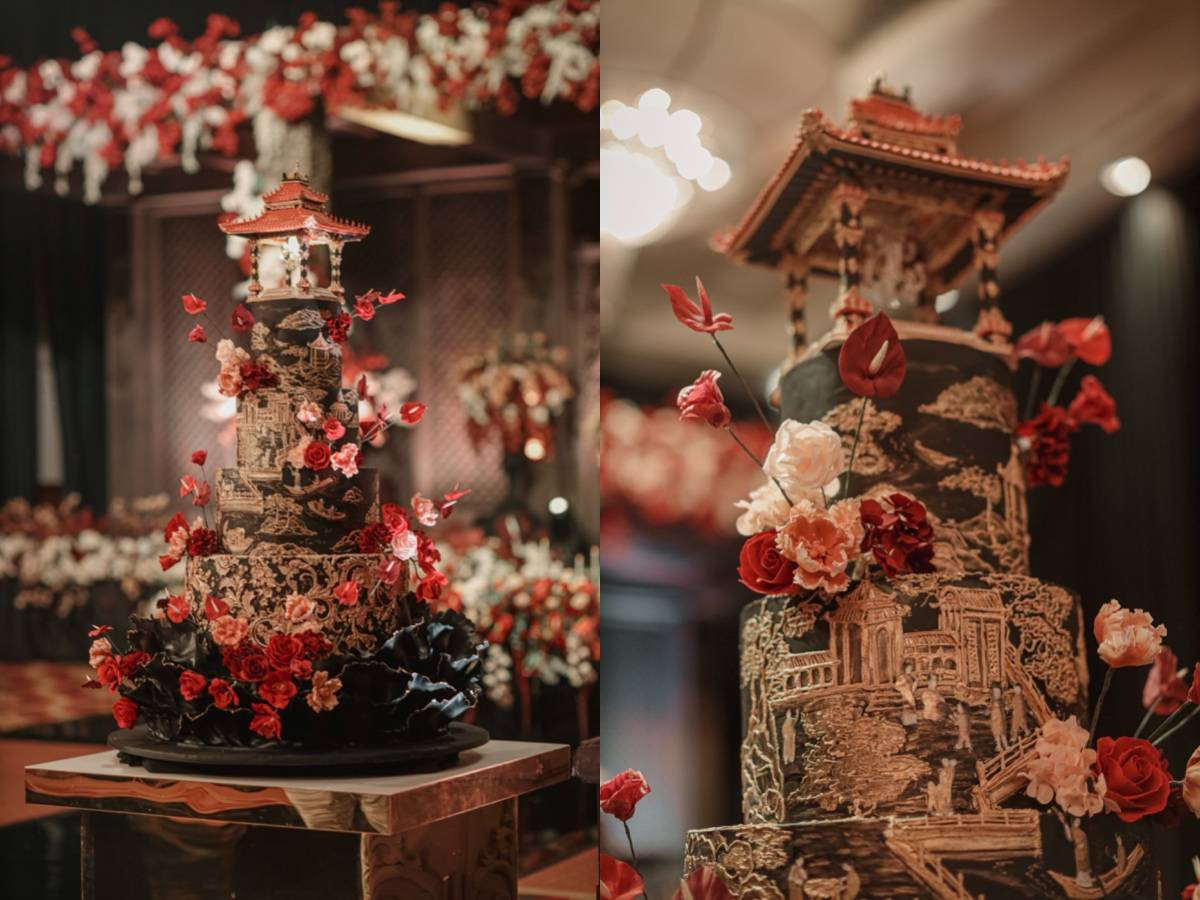 Perpaduan tak biasa dari motif batik khas Indonesia dan motif Chinoiserie khas Eropa memberikan look mewah di wedding cake satu ini. Keraton Jogja sebagai top tier cake bernuansa merah yang berani, dengan sentuhan warna emas di seluruh permukaan cake, membuat wedding cake ini terlihat megah dan estetik sesuai dengan dekorasi wedding. Detil dari setiap motif pun dilukis satu per satu dengan teknik 3D loh Lovely Couples, sangat menawan bukan?
3. Flower Spiral Wedding Cake for your Modern Outdoor Wedding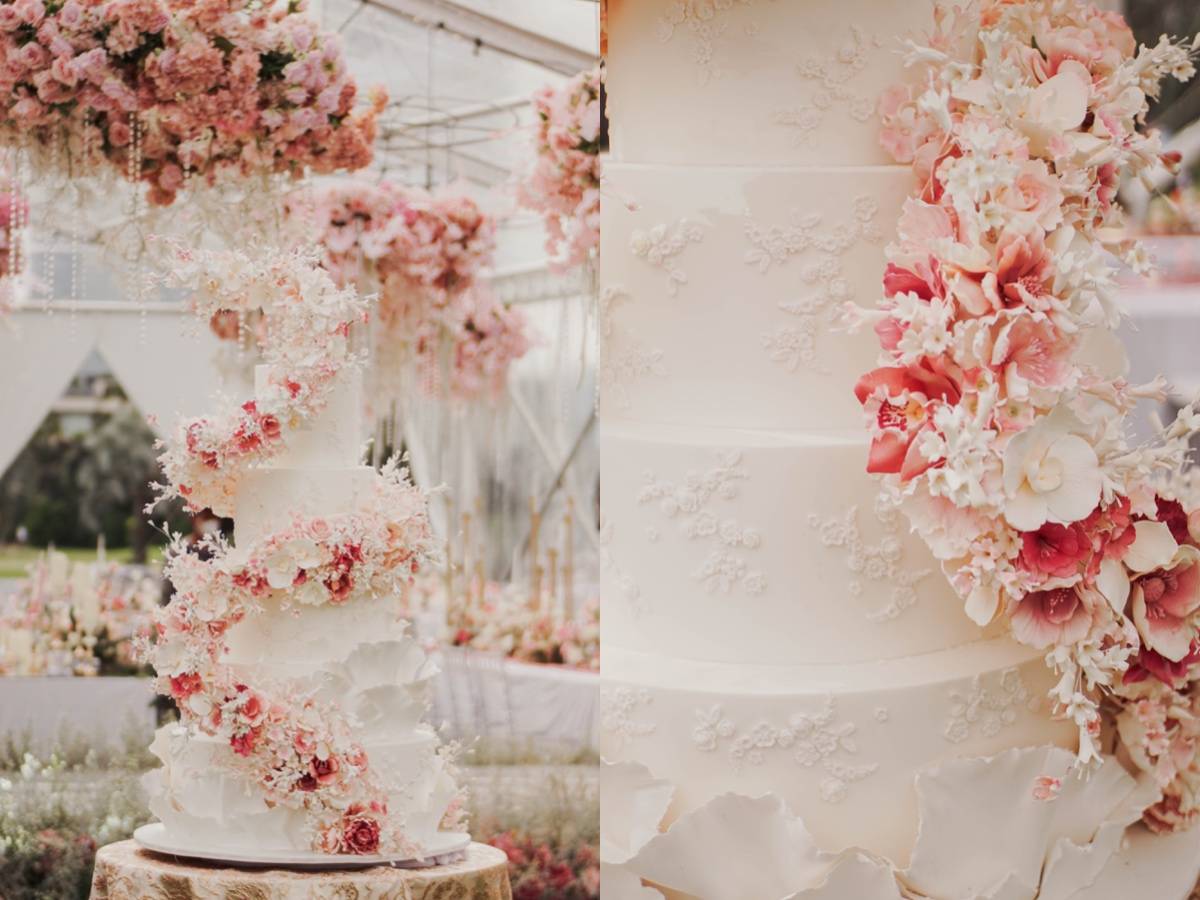 Biasanya, konsep wedding cake juga disesuaikan dengan dekorasi wedding. Contohnya adalah wedding cake yang terinspirasi dari pinky floating flowers yang digunakan dalam konsep outdoor wedding kali ini. Kue 5 tingkat warna putih dengan detil sederhana ini dikelilingi oleh bingkai spiral kelopak bunga nuansa merah muda yang sweet & feminim. A fun fact about this wedding cake, tiap sugar flowernya dibuat handmade dan dilekatkan pada bingkai spiral satu per satu loh Lovely Couples! Elegan, namun tetap manis di saat yang bersamaan.


Le Novelle Cake akan memamerkan wedding cake masterpiece berkonsep tradisional dan oriental wedding dalam A Celebration of Love, Luxury Wedding Showcase pada hari Sabtu & Minggu, 18 - 19 Juni di The Langham, Jakarta.
Experience Luxurious Wedding Installation dengan berbagai konsep, mulai dari Oriental, Indonesia, hingga Modern Outdoor. Don't miss this opportunity to get limitless wedding inspiration and make your dream wedding happen.