Foto: dok. Wedding Festival (Booth Honeymoon & Wedding Destination: Anahata Villas & Spa Resort, Bali Nyuh Gading Villa, Jannata Resort Resort and Spa, Jeeva Klui Resort, Kupu-kupu Barong Villas & Tree Spa By L`Occitane, The Lokha Ubud Resort, Villas and Spa, The Royal Pita Maha, dan Weddingku Honeymoon)

Dari hasil survei yang dilakukan Weddingku Honeymoon dari banyaknya jumlah pasangan calon suami-istri yang merencanakan perjalanan bulan madu mereka, Bali masih menjadi destinasi utama untuk berbulan madu. Bahkan ada yang ingin menikah sekaligus berbulan madu langsung di Bali.

Hal ini bukannya tanpa alasan, namun memang Bali masih memiliki daya tarik sendiri untuk dijadikan tempat menghabiskan waktu bersama pasangan. Ada banyak alasan mengapa Bali menjadi destinasi bulan madu terfavorit. Pertama, Bali memiliki banyak fasilitas yang memadai mulai dari hotel bisa hingga berbintang, jalan yang sudah bagus, bandara internasional, instruktur permainan yang profesional dan masih banyak yang lainnya.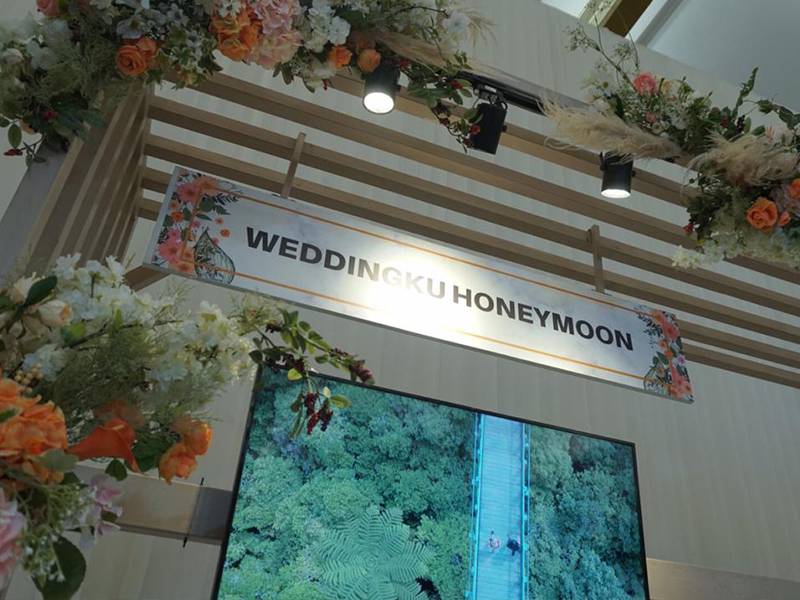 Foto: dok. Wedding Festival

Hal lain yang menjadi daya tariknya adalah Bali memiliki budaya yang mengagumkan karena mayoritas penduduknya beragama Hindu. Jadi, Bali memiliki serangkaian upacara keagamaan yang mengagumkan. Bali juga memiliki penduduk lokal yang sangat ramah terhadap wisatawan manapun. Dengan turis mancanegara yang masih memiliki kendala bahasa saja penduduknya sangat ramah, apalagi dengan turis domestik.

Bali memiliki pemandangan cantik yang tak akan pernah terlupakan, makanya Bali menjadi destinasi bulan madu paling komplit. Tidak akan ada yang bisa menolak keindahan pantai Bali yang sudah mendunia. Pemandangan Bali tak hanya pantai lho ternyata, tapi juga ada pemandangan desa yang asri dan damai. Romantisme bulan madu akan semakin terasa dengan pemandangan sawah yang memukau.

Perjalanan ke Bali bersama pasangan akan terasa berbeda bila melakukan perjalanan dengan keluarga atau teman. Sensasinya berbeda. Bila Anda melakukan perjalanan dengan pasangan setelah menikah atau berbulan madu, pikiran Anda akan tersegarkan kembali setelah sebelumnya sibuk dan stres dengan persiapan pernikahan.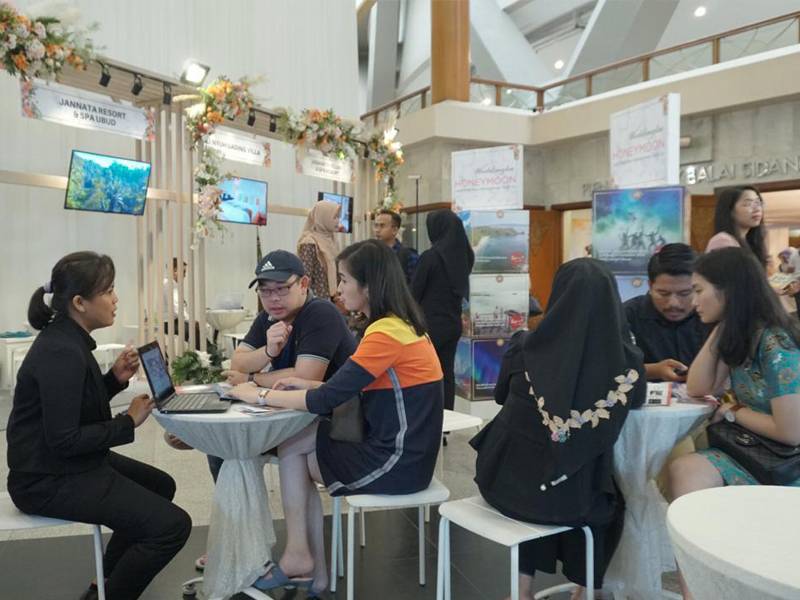 Foto: dok. Wedding Festival

Misalnya bila bersama teman atau keluarga, Anda hanya akan membeli kamar saja atau hanya membeli destinasi saja. Namun, bila bersama pasangan, Anda bisa membeli kamar sekaligus mendapatkan treatment spesial berdua. Treatment romantis yang tak akan bisa terlupakan seumur hidup pastinya.

Saat ini, sudah banyak sekali pilihan destinasi bulan madu Bali yang disediakan travel perjalanan bulan madu. Anda bisa memilih destinasi yang sesuai dengan budget, dengan keinginan, bahkan dengan hobi yang Anda gandrungi karena Bali mampu memberikan segala hal yang Anda inginkan.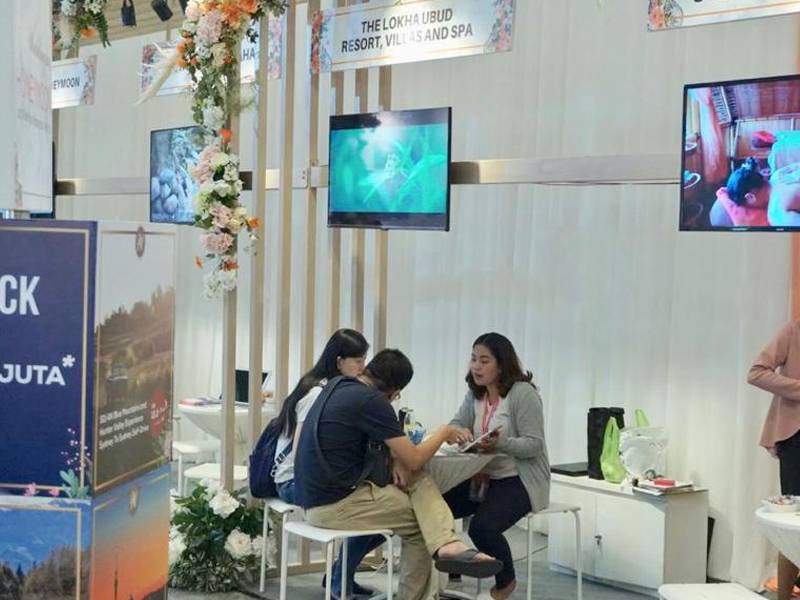 Foto: dok. Wedding Festival

Semua informasi yang Anda butuhkan mengenai bulan madu di Bali, bisa didapatkan di booth Bali Wedding Destination yang ada di Wedding Celebration Festival (WCF) 2019. WCF 2019 sendiri berlangsung dari tanggal 22-24 November 2019 di Jakarta Convention Center (JCC).

Jangan khawatir bila Anda ingin berbulan madu ke luar Indonesia atau ke tempat selain Bali karena WCF 2019 menyediakan semua informasi yang Anda butuhkan mengenai bulan madu. Misalnya ingin ke Lombok atau khusus ke Pulau Cinta, Thailand, Maldives, Swiss, Dubai, Filipina dan masih banyak lagi destinasi bulan madu lainnya.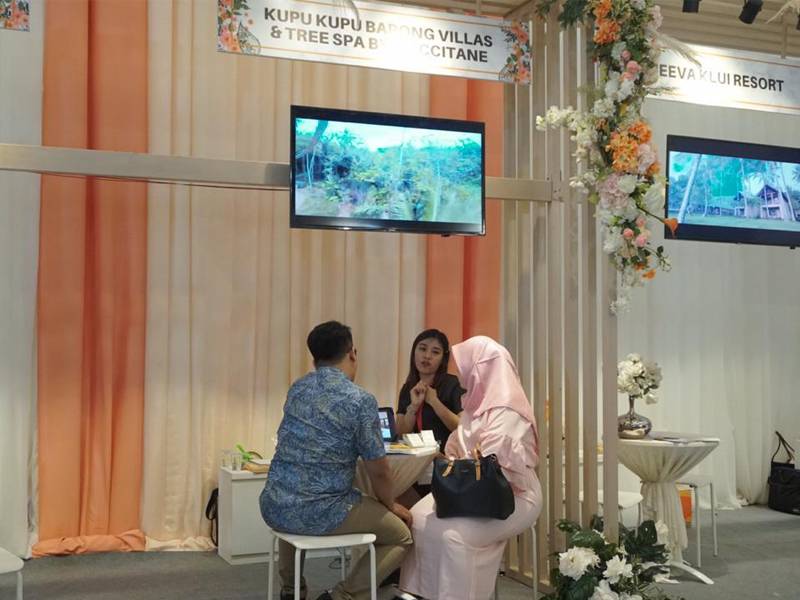 Foto: dok. Wedding Festival

Silakan kunjungi booth vendor-vendor berkualitas yang ada di WCF 2019. Dijamin informasi apapun mengenai pernikahan sebelum dan pasca menikah akan Anda dapatkan di sini. Untuk informasi lebih lanjut, Anda bisa cek Instagram @weddingfestival.id atau @weddingku.