Beautiful Flowery Beach Wedding of Nicky Wu and Cecilia Liu
A Romantic Yet Lavish Beach Wedding Ceremony
Hari Minggu, tanggal 20 Maret 2016 menjadi hari yang sangat spesial bagi pasangan aktor asal Taiwan dan aktris asal China, Nicky Wu (Wu Qi Long) dan Cecilia Liu (Liu Shi Shi) yang menggelar pesta pernikahan yang super mewah di Ayana Resort and Spa Bali. Acara upacara pernikahan dimulai sekitar pukul 5 sore. Nicky yang tampil sangat gagah dalam balutan jas berwarna abu-abu dari Dolce and Gabbana menanti Cecilia yang berjalan menyusuri altar diantarkan oleh sang ayah tercinta. Cecilia Liu tampil sangat anggun mengenakan gaun pengantin putih rancangan Carven. Dipimpin oleh aktor kawakan Damian Liu sebagai petugas upacara, Nicky Wu dan Cecilia Liu saling mengucapkan janji suci mereka kepada satu sama lain di hadapan kerabat dan sahabat yang hadir. Dalam janji pernikahannya, Nicky sempat mengungkapkan bahwa Cecilia adalah hal terbaik yang Tuhan simpan untuknya setelah berbagai kejadian yang tidak menyenangkan yang ia alami dalam hidupnya. Latar belakang pemandangan laut yang indah serta tempat outdoor yang didekorasi dengan banyak bunga-bunga bernuansa putih, biru dan pink, membuat momen sakral tersebut menjadi sangat cantik dan romantis. Kabarnya, Nicky menghabiskan 20 juta RMB dan memesan 6 pesawat untuk mendatangkan 400.000 bunga dari Ekuador dan Belanda untuk dekorasi tersebut.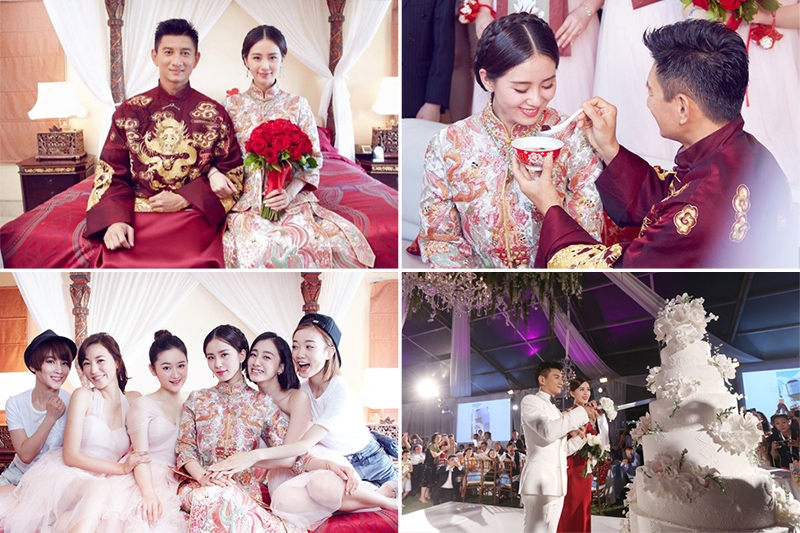 A Festive Night Reception
Malam harinya, acara dilanjutkan dengan resepsi yang mewah yang dihadiri oleh 350 tamu undangan. Cecilia mengganti gaun pengantinnya dengan cheongsam cantik berwarna merah, sedangkan Nicky mengenakan jas berwarna putih dan bow tie hitam berglitter. Resepsi Nicky dan Cecilia semakin meriah dengan peluncuran kembang api dan penampilan reuni dari "Little Tigers Team" yang terdiri dari Nicky Wu, Alec Su, dan Julian Chen yang menyanyikan lagu andalan mereka "Love".